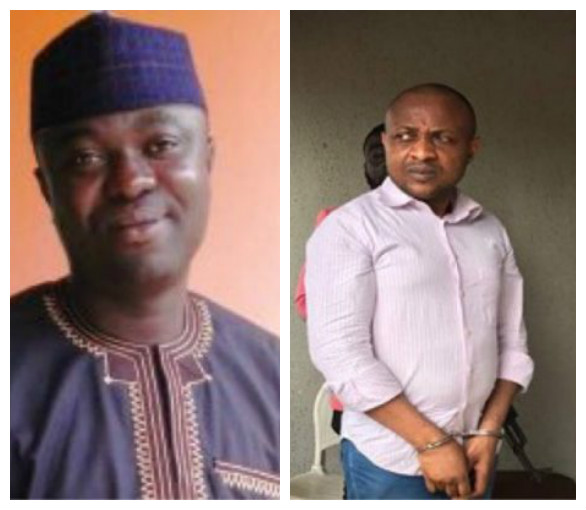 The Federal High Court sitting in Lagos has fixed a date to deliver judgement in a fundamental rights enforcement suit filed by one, Okwuchukwu Obiechina, said to be a brother-in-law to suspected kidnap kingpin, Chukwudumeme Onwuamadike, popularly known as Evans.
Obiechina and his wife, Nzube, are challenging their alleged illegal detention by the police.
In the suit, the duo claimed they have been in detention since June 2 owing to their relationship with Evans.
They listed the Commissioner of Police in Lagos State, the Nigeria Police and the Special Anti-Robbery Squad (SARS) as co-respondents to the suit.
Following a motion ex parte the couple filed on October 10, Justice Mohammed Idris in a ruling directed the police to produce the applicants in court to show cause why a release order should not be made.
At Tuesday's proceedings, counsel to the police, Emmanuel Eze, told the court that he had challenged the court order.
To forestall an abrupt adjournment of the proceedings, the couple's lawyer, Olukoya Ogungbeje, asked the court to vacate the order to pave way for the hearing of the substantive suit.
In his arguments on the substantive suit, Ogungbeje claimed his clients have been in police custody since June 2 in connection with the criminal charge brought against Evans.
He said the respondents' admittance in their counter affidavit that the applicants were only detained for six days confirmed his clients' claims of illegal detention.
Ogungbeje further argued that contrary to the claims by the police, they were yet to secure any remand order to detain his clients, adding that till date, the respondents were yet to disclose any reason they should continue to hold on to the applicants.
On his part, Eze said claims of illegal detention of the applicants do not arise as the police had already secured a remand order from a magistrate court.
He argued that the duo were arrested by the police on reasonable suspicion of engaging in kidnapping and murder.
Eze also alleged that Obiechina made an attempt to truncate Evans' trial by demobilising about nine trucks that were recovered from him, and urged the court to dismiss the suit with substantial cost.
After listening to submissions by parties in the matter, Justice Idris fixed October 23 for judgement.
CHANNELS