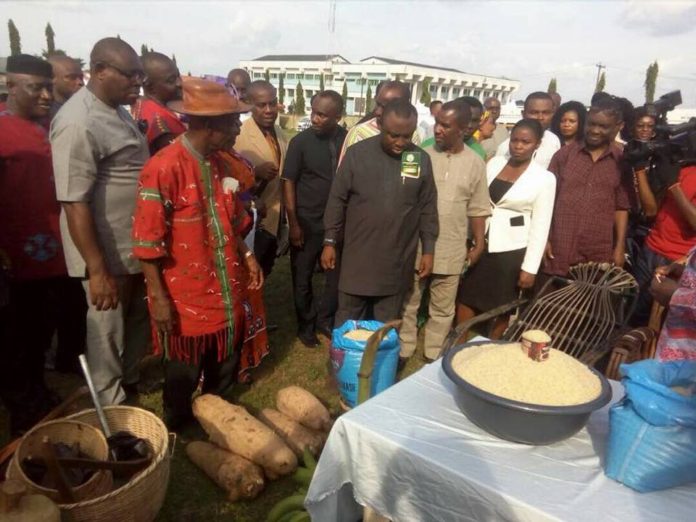 The Governor of Abia state has stated that as a major leader in MSME in Nigeria its economy will be diversified through robust MSME development.
The Governor Dr Okezie Ikpeazu speaking through his Senior Special Assistant on Job Creation and Youth Development Mr Chinenye Nwaogu during the opening ceremony of First Abia International Trade and Investment Market Exhibition (ABMART 2017) today at the women development center Umuahia. Mr Nwaogu highlighted the efforts of the Okezie Ikpeazu administration to encourage growth of MSMEs in state as the engine for massive economic growth and Job creations.
He stated that the government has enhanced the ease of doing business in state through massive infrastructural upgrade, improved security architecture, development of strong ties with the federal MDAs who have responsibility for MSME growth and development, structured access to cheap finance with the signing of the N1Billion matching fund and the N3Billion GEEP loan for MSMEs in the state. He further stated that some areas that militated against the growth of businesses like the issues of multiple or double taxation are been addressed through consolidated tax system. The state he opined has attracted the attention of the federal government and multilateral agencies who are poised to support government's effort to grow MSME in the state. Mr Nwaogu stated that the state has witnessed economic growth in the sector and that made in Aba products which the government has been promoting has received wider acceptance.
He invited the MSME operators to take advantage of the recently inaugurated MSME One Stop Shop as an incubation and business development center with all the relevant federal and state MDAs under one roof providing world class personalized services aimed at energizing MSMEs in the state. He thanked the ministries of Local Government & Chieftaincy Affairs and Trade and Investment for partnering with the private sector to organize the event at no cost to government. He further expressed gratitude the Chairmen of the 17 Local Government Areas who supported and mobilized their entrepreneurs to showcase their products at the fair.
After cutting the tape to signal the flagging off of the fair, the representative of the Governor, Mr Nwaogu inspected the 17 exhibitions stands showcasing different products from the 17 Local Government Areas of the State.
Addressing newsmen, Mr Nwaogu stated that the leadership role of the Governor in the MSME sector has earned him nomination as a member of the National Council on MSME, the highest policy making body in the country driving the growth of MSMEs.
The event was attended by the chairmen of Aba North, Umuahia North, Ohafia, Obingwa Local Government Areas, Permanent Secretaries and other top Government officials.