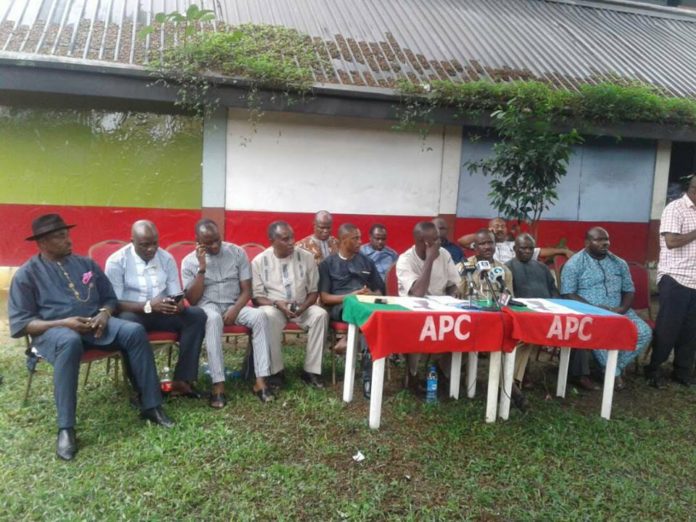 As the battle of might continues in the Rivers State Chapter of the All Progressive Congress(APC) , the Forum of LGA Party Chairmen, Rivers State, met yesterday and decided  individually and collectively to pledge their unflinching and unalloyed loyalty to the party under the chairmanship of Chief (Dr) Davies Ibiamu Ikanya (JP) and the Leader, Rt. Hon. Chibuike Rotimi Amaechi, CON, Minister of Transportation.
The Local Government APC Leaders condemned what it Described as "unbecoming behaviour and tendencies by some  leaders and members of the Party who are exhibiting unbridled and ambition-driven disobedience to the collective decision to rebuild/reposition the party before anything else".
Particularly, the Forum of Local Government Chairmen of APC condemned the activities of members of the group called M30 who have recently announced themselves to be APC stakeholders.
They Siad "We are critical stakeholders of our party that cannot be excluded from important decisions like endorsement of a governorship candidate in the state. Therefore, any such endorsements are null and void".
"Whereas we recognise the freedom of our party men and women to pursue our different ambitions and preferences, all such pursuits and endeavours must conform to laid-down party rules, regulations and directives".
"We make bold to kindly appeal to Distinguished Senator Magnus Ngei Abe to rein in his supporters who are displaying uncontrollable impudence, insult and outright disobedience to the party's constituted authority".
"We harbour no doubts at all that our party will continue to extend unfettered and equal playing field to all members on all matters.We will continue to encourage and stand by our Leader, Rt. Hon. Chibuike Rotimi Amaechi as he leads us through the onerous task of building the party first as a party of order and rules, and one that adheres to its constitution and laws of the land".
PUO REPORTS that the 2019 Governorship Ticket of the All Progressive Congress in Rivers has divided some Leaders of the party into Four Different Camps.
"Whereas we are not in doubt that our party will justly and fairly reward faithful members, however, we urge the leadership of the party not to hesitate in taking firm disciplinary measures against all forms of indiscipline, irrespective of the status of anyone or group involved".the Concluded
Those who attended the meeting and signed the statement are:
Hon. Gift Igoma Loveday (Abua/Odual) – Chairman
Hon. Owuze Umah (Ahoada East)
Chief Goodluck Agwolo (Ahoada West)
Hon.Tubotamuno Dabiri (Akuku-Toru)
Mr.Jephtha Alaka (Andoni)
Mr. Daere Samuel-Horsfall (Asari-Toru)
Chief Hanniel  Pepple (Bonny)
Hon. Kesibo Gogo-Abite (Degema)
Hon. Frederick Oyor (Eleme)
Barr. Vincent Uchendu (Emohua)
Chief Musa Elekwa (Etche)
Hon. Second Bakor (Gokana)
Hon. Benjamin Odigwe (Ikwerre)
Chief Eric S. Nwibani (Khana)
Mr. Solomon Ikegwuru (Obio/Akpor)
Elder Felix Ejechi (Ogba/Egbema/Ndoni)
Chief Israel lboms (Ogu/Bolo)
Hon. Christian Asifamaka (Okrika)
Mr. Charles Amaefule (Omuma)
Sir. Tonye Epelle (Opobo/Nkoro)
Hon.Chidi Elechi (Oyigbo)
Mr.Chima Amadi (Port Harcourt City) – P.R.O
Mr.Berenor Lekia Nkporbu (Tai) – Secretary