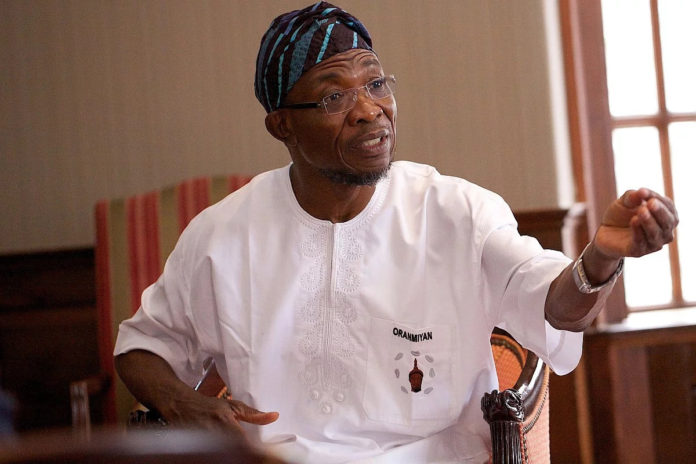 Osun State Governor Rauf Aregbesola has said that not all the civil servants in the state are being paid half salaries.
Governor Aregbesola stated this over the weekend in Osogbo while addressing a Federal Government delegation on digital switchover.
"Contrary to the lies you are being fed, it is not all our workers that receive half salaries," he said. "Workers on level 1-7, being the most vulnerable and the largest chunk of the workforce, are being paid full salaries."
"Workers on level 8-11 showed understanding with the government to accept 75% of their salary. It is only workers on grade level 12 upward that receive 50% of their salary. The workers have shown maturity, support, and understanding. We acknowledge and appreciate the sacrifice and support of the workers," he added.
The governor, however, said he is unhappy with the inability of the state government to pay full salary to workers and political appointees.
According to him, economic downturn induced by the brazen corruption, wanton theft of crude oil and mismanagement of the Nigeria's resources by some elements forced the state to what it is witnessing.
He said, "We are not happy paying modulated salary to our workers in the civil service and political appointees, we are compelled by the financial reality; we are constrained."
Aregbesola said the financial burden on the government was incurred to provide massive infrastructure to transform the state and develop it economically, noting that Osogbo desired infrastructure development to have a look of a state capital.
"Before our government, Osogbo roads were very narrow and since there was no development, there was no heavy traffic and the roads accommodated the users. However, there was an influx of people to the state since our administration came on board. There was heavy traffic on the Osogbo roads and they could not accommodate the traffic anymore.
"We started construction of new roads and rehabilitation of some existing ones to ease traffic. As a visionary government, we know that by the time our economic plan begins to grow, the Osogbo roads would become busier, so we came up with the construction of Osogbo East Bypass road.
"We constructed the road for economic purposes, people that are narrow in thinking do not know that. We know that things are hard and the state is passing through financial difficulty but we are undeterred by the challenges; our credo is to see that our people explore their freedom for economic prosperity," he told the team.
CHANNELS