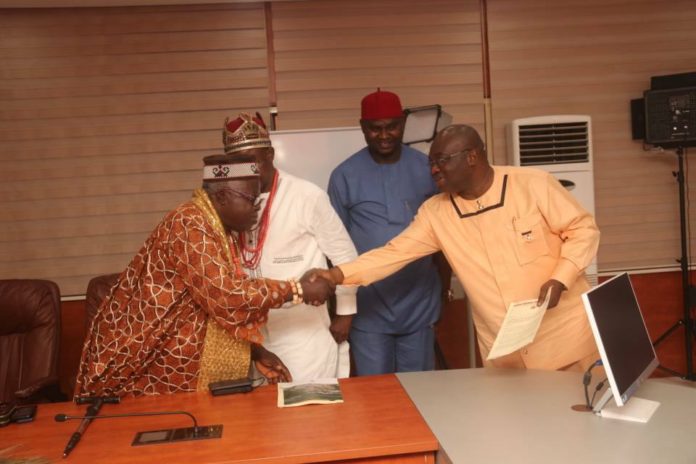 Uturu Council of Traditional Rulers in Isuikwuato Local Government Area of the State has adopted Governor Okezie Victor Ikpeazu as their sole candidate in the 2019 gubernatorial election.
They also invited the Governor over to Uturu for a grand civic reception on any date that is convenient for the Governor
Speaking while receiving the Traditional Rulers in the Executive Chambers of Government House, Umuahia. Governor Okezie Ikpeazu assured them that he has no problem with the Uturu people as he has a relationship with the people.
The Governor used the opportunity to assure that Isuikwuato Water Board Committee would be set up. This he said would ensure that issues surrounding Uturu water scheme are duly handled.

According to Dr. Ikpeazu, plans are on top gear to arrest the erosion menace in Uturu and other parts of Isuikwuato. He also informed that their ring roads would be fixed . He further enjoined them to carefully approach their Umunneochi brethren on the issue of power shift on Federal House of Representatives.
Earlier, the leader of the delegation Eze Silas Chukwu and Eze Cletus Ogbonnaya appreciated the Governor for appointing their sons and daughters, including Lady Loveth Ufoegbu, Hon. Osita Igbe of the immediate past cabinet and his assistance in ensuring that Uturu clan produces a Local Government Area Chairman, an opportunity that eluded them for decades.
They said they were in Government House to show their unalloyed support of the current zoning of governorship in the State and said the Abia South should complete its second term.
The monarchs disclosed that they rose from a meeting to adopt Dr. Ikpeazu who has been adopted by Uturu people as their sole candidate for 2019 governorship elections, saying that he deserves the second tenure.
They requested the Governor to fix their ring roads, revisit the water scheme and assist in ensuring a power shift from from Umunneochi to Isuikwuato in the House of Representatives seat which Umunneochi has occupied for close to 12 years now.
Uturu clan is the home- town of Dr. Uchechukwu Sampson Ogah.
Abia Online