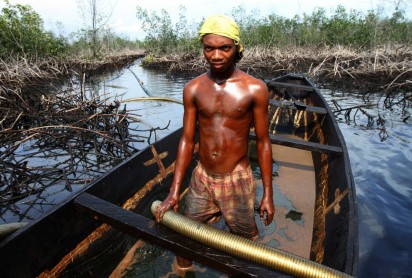 The Movement for the Survival of the Ogoni People on Thursday gave the Federal Government December deadline to commence the clean-up of Ogoniland in Rivers State or be ready to face the anger of the people.
MOSOP decried FG's continued delay in starting the exercise after it was flagged off a year ago.
It expressed worry that nothing tangible had been done to clean up the polluted area.
Speaking with journalists in Port Harcourt, during a briefing to mark the 21th Memorial Anniversary of Ogoni sons killed during the struggle for the  development of the Ogoni people,  Secretary of the Martyrs Day Planning Committee, Mr. Bari-ara Kpalap, warned that the lives of the Ogoni people would be endangered should the Federal Government continue to foot drag on the exercise.
Explaining that the oil spills in the area had affected the soil and the people source of water, Kpalap insisted that the implementation of any clean-up had gone comatose.
"Our expectations have not been met because since June 2, 2016 to date, we cannot point to anything concrete that the Federal Government has done.
The flag-off was done in June 2016 and they did another groundbreaking ceremony for the construction of the integrated contaminated soil management. As we speak, construction or clean-up of the area is in comatose," he stressed.
PUNCH