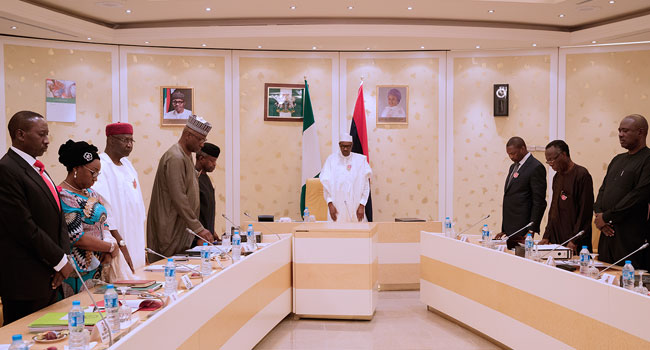 President Muhammadu Buhari on Wednesday, November 22, inaugurated an audit committee.
The committee is expected to audit assets and loots recovered by government agencies and to submit their report in four weeks from now.
Members of the committee are Mr Olufemi Lijadu, Mrs Gloria Chinyere Bibigha, and Mr Mohammed Nami. The committee is to audit all recovered accounts up to April 10, 2017.
President Buhari after he swore-in members of the committee said, "recovered assets are progressively being returned to designated accounts by the anti-graft agencies and other agencies on government involvement in the processes."
He said since assumption of office, the APC administration under him had pursued a strong and effective anti-corruption regime and that in the course of implementing the anti-corruption exercise there became the need to fill gaps that exist in ensuring recovered assets are accounted for.
"In the course of implementing these exercise and given the number of agencies who are concurrently pursuing specialised initiatives and making recoveries for the government, it has become obvious that fundamental gaps still exist in ensuring that the recovered assets are accounted for and managed in an accurate, transparent and logical manner," he said.
Buhari said further that it was in realisation of that and due to the determination in pursuing the anti-graft war, his administration did not create new room for dishonorable conduct by any individual or agency.
"The decision to inaugurate this Audit Committee on the Recovery and Management of Stolen Assets within and outside Nigeria today is therefore the next step in ensuring that all returns filed by the various agencies are accurate and consistent with actual recoveries made.
"The committee, in essence, is therefore expected to judiciously undertake an audit of all recovery accounts established by government agencies from the date of opening such accounts up to 10th April, 2017," he said.
CHANNELS