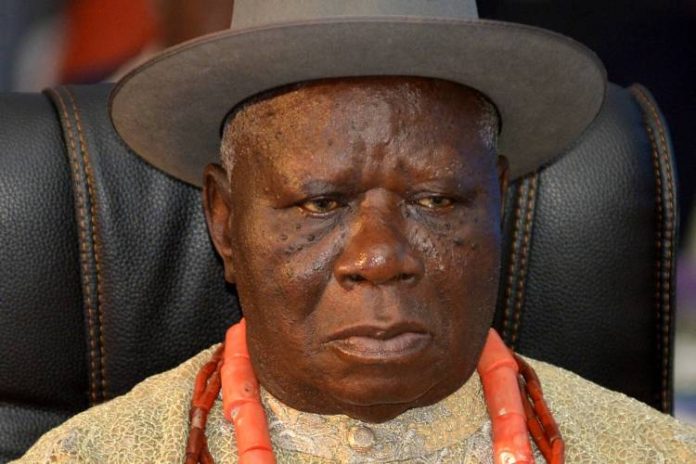 The national leader of the Pan Niger Delta Forum (PANDEF), Edwin Clark, and members of the group have called for the practice true federalism in Nigeria.
The leaders made the call on Thursday during a meeting held at the conference centre of the Petroleum Training Institute, Effurun in Delta State.
An emergency general assembly of PANDEF was convened after the forum reconciled with a factional group identified as the Pan Niger Delta Peoples Congress (PANDEC), to work together as one united forum.
In his address, Mr Clark, a former minister of information, said true federalism where states have the right to fiscal autonomy and control, as well as self-management of resources must be the order of the day in the region.
"We will continue to demand that the country practices true federalism – where states have the right to manage their God-given resources and develop them in accordance with the capacities and capabilities inherent in each state," he said.
Leaders at the meeting also discussed matters relating to the security situation and the urgent need to sustain peace and development in the Niger Delta region.
They also advised youths in the region to remain law-abiding, even in the face of provocation while they thanked Governor Nyesom Wike of Rivers State for accepting to host the next meeting of the assembly at a date which is yet to be decided.
Meanwhile, the coordinating secretary of the forum, Alfred Mulade, officially announced the commencement of academic activities at the Maritime University, Okerenkoko, advertising vacant positions for interested Nigerians.
At the end of the meeting, the forum issued an 11–point communique which highlighted agreements reached by the leaders, most especially on the group's position on the recent action of the Federal Government to allegedly disrupt a gathering of the forum on October 26 in Port Harcourt.
Earlier, the convener of the factional PANDEC, Mike Loyibo, blamed the conflict between his side and PANDEF on a communication gap.
He, however, said: "Both groups have decided to iron out their differences and the only way to move the region forward is to work under the leadership of E.K. Clark."
CHANNELS