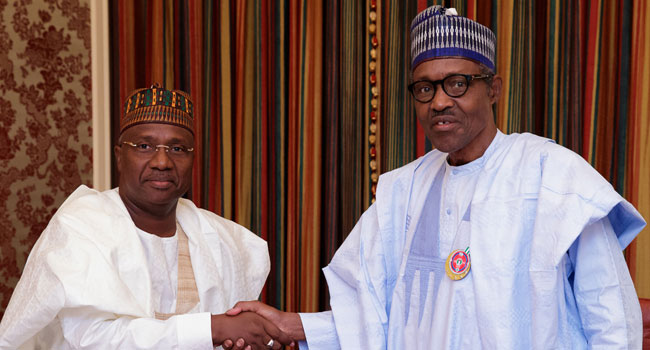 Governor Jibrilla Bindo of Adamawa State says he is one of the founding fathers of the All Progressives Congress (APC) and will not join former Vice-President Atiku Abubakar to exit the party.
Bindo said this on Tuesday while after a closed-door meeting with President Muhammadu Buhari. He added that the APC is a house that he built and cannot leave.
"The former vice president is more than matured enough to decide what he wants to decide for himself. As far as I am concerned, one of the founding fathers of APC. When I was in the Senate, we were the ones, alongside the current Senate President that worked very hard to ensure that all members of the National Assembly; that we agreed to move to APC," the governor said.
Reacting further to the former vice-president's decision to leave the APC, Bindo said he cannot follow suit but will remain in APC for the rest of his life.
"I cannot see any reason why, today, that the house I built, that I will leave. So I am in APC for the rest of my life, period," he said.
The former vice-president Abubakar is an indigene of Adamawa State. The Adamawa governor the said further that he still regards the former vice-president as a father.
"Not only Waziri, every elder in Adamawa State, as far as I am concerned, I regard them as my parents or elders. So, Waziri remains somebody I respect as a father, and the same with any other elder in the state," Bindo said.
He said the APC remains a strong party in Adamawa despite the departure of Abubakar.
CHANNELS