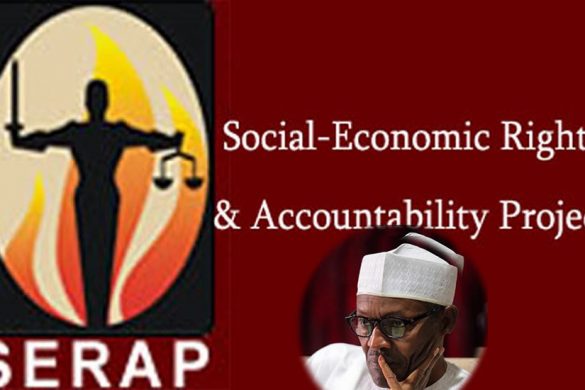 Socio-Economic Rights and Accountability Project (SERAP) has called the attention of President Muhammadu Buhari to the plight of several Nigerians who are among Africans trapped in Libya.
The group in a statement on Wednesday said the President should "seize the opportunity presented by the ongoing European Union-African Union summit in Abidjan, Côte d'Ivoire to push for a joint EU-AU international commission of inquiry to investigate allegations of slave auction in Libya."
President Buhari is currently in Abidjan for the fifth European Union-African Union (EU-AU) Summit in Abidjan, Cote d'Ivoire.
The statement signed by SERAP director Adetokunbo Mumuni, the organisation said victims of the abuses in Libya are calling on African leaders to go beyond condemning the situation but to salvage it their prompt action.
"Nigerian and other African victims of abuses in Libya are crying out for leadership. They urgently need African leaders to act. Given Nigeria's leadership role in the region, Buhari can and should provide greater leadership to push European and African leaders to go beyond merely condemning the atrocities and act swiftly to end the shocking abuses, remove Nigerians and other African women, men and children still trapped in Libya from harm's way, and guarantee their safety and well-being," the statement read in part.
The statement claimed that the international community has so far failed to heed the call for action to end the ongoing abuses in Libya, and Nigerians and other African women, men and children are paying for this failure with their lives.
"Africa now needs strong and principled leadership to address the situation, and we believe Nigeria can and should lead the way. It's not only the right thing to do, it's also critical if Nigeria wants to remain relevant in regional and international affairs. The next two days will reveal whether Nigeria is up to the test."
SERAP said European and African leaders need to take urgent and strong action in response to the human rights and humanitarian situation in Libya by urgently dispatching humanitarian team to Libya.
Buhari according to the group should press the summit to request the Office of the High Commissioner for Human Rights and the African Commission on Human and Peoples' Rights to urgently dispatch humanitarian teams to Libya to help those trapped there to leave the country in a safe and humane manner.
"Any such commission of inquiry should be given the mandate to establish the facts and circumstances surrounding the slave auction and other atrocities being perpetrated in Libya against Nigerians and other African women, men and children, and to collect and preserve evidence as well as clarify responsibility, including the potential complicity of any governments and non-state actors."
CHANNELS