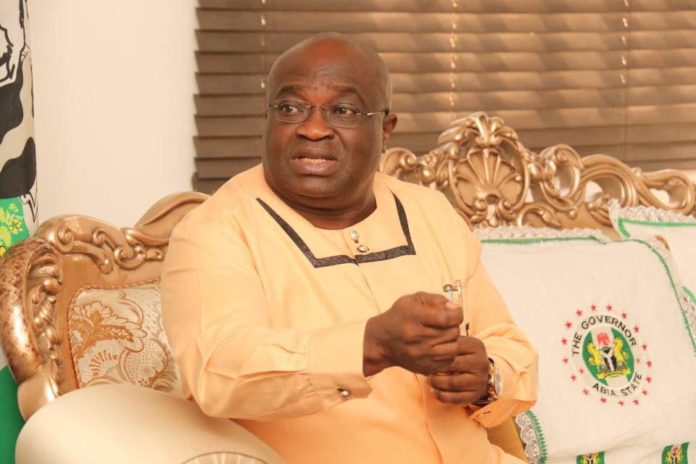 The Governor of Abia State, Dr. Okezie Ikpeazu, has blasted civil servants in the state, describing them as architects of delay in salary payment through their falsification of wage bill to accommodate ghost workers.
Ikpeazu, who expressed his frustration over the bloated wage bill at his quarterly interaction with the people of the state in Aba, the state's commercial hub, said that when compared with Ebonyi State where N900 million is used to settle all salaries of workers including pensioners, Abia is battling to make use of N2.1billion for just settlement of workers' salaries.
"The greatest enemies of the civil servants are the civil servants themselves. Who are the people that change figures and change dates? Who are the people that manage the pension in the first place? It is the workers that manage the pension and make it unavailable for the pensioners. I cannot be battling to pay N2.1billion for salaries while my brother in Ebonyi is just using N900 million to pay everybody, including pensioners.
"When we came, we inherited a wage bill of about N2.6 billion, but by asking workers to show us BVN, we were able to reduce it to 2.1billion which means that some people were stealing N500million every month before we discovered it.
Workers in Abia State are 39,000 MDAs (Ministries, Departments and Agencies) are 21,000 and local government workers are 18,000. "Now, in which local government will you find up to 1,000 workers? This shows that there are still ghost workers. We are doing thumb printing for workers. We have a device and we are working with consultant from America that is helping us to look at who comes to work and who doesn't come. Some people who live overseas are paid salaries in Aba South and it must stop."
Adding his voice on the salary saga in the state, the State's Commissioner for Finance, Mr. Obinna Oriaku, claimed that Abia is owing because the state's salary rate and wage bill are actually higher than any other state in the South-East.
"Yesterday, I decided to take analysis of what each state does in the South-East and it is very surprising that Abia pays the highest. Before we came in, a permanent secretary here earned N635,800… Today, it is about N520, 000. In Enugu, a permanent secretary takes home N290, 000; in Anambra it's N350, 000, in Imo it's between 300, 000 and 370,000."
Beside Oriaku, the governor was accompanied to the quarterly interaction by the Commissioner for Works, Eziuche Ubani and the Commissioner for Agriculture, Barr Uzo