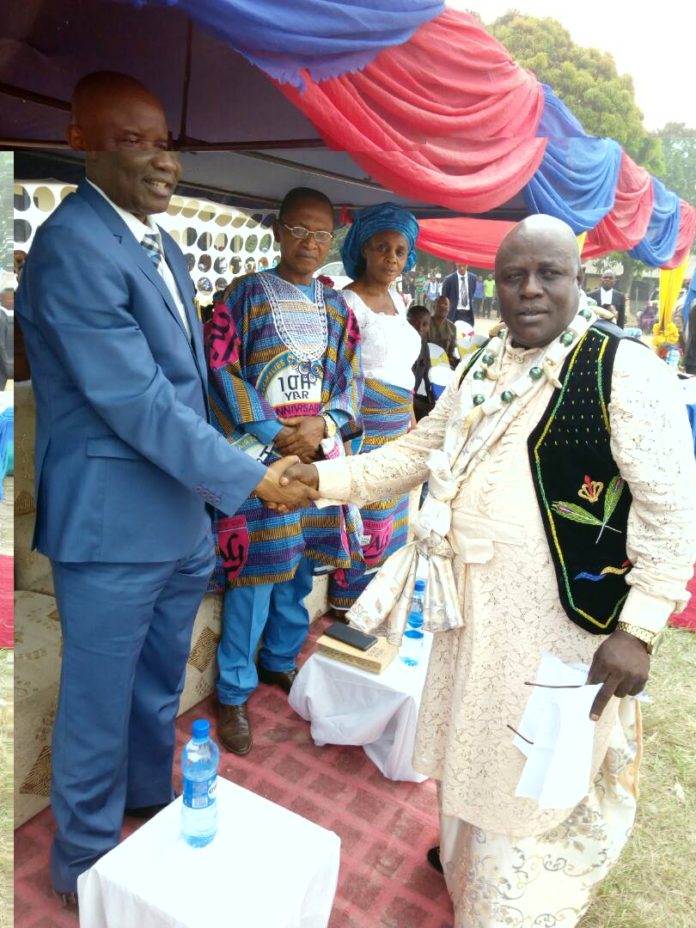 As Hundreds of Followers Deceived and hypnotized into rebellion by a Former General Superintendent Rev Paul Emeka makes their ways back to the Church,King Ovarr Robert Mbina,a Traditional Ruler who fought against the Church,has finally asked for forgiveness.
HRH Ovarr Robert Mbina, Mbima Ajom111, Ohorodo I of Okum Kingdom and Apiapum led other traditional rulers and titled Chiefs to the 10th Anniversary of Obubra District held at the Primary School Ofutara in Obubra Local Government Area of Cross Rivers State.
The King  congratulated the District, Assemblies Of God Nigeria and of course the General Suprintendent on the victory of the Church at the Supreme Court on the 24th February 2017.
While regretting the roles he played in the crises having been deceived by the disgruntled and defeated Paul Emeka followers in the district, He remarked that the victory is an indication that God ordained Rev Dr Chidi Okoroafor as the leader of the church.
His royal highness on bended knees earnestly pleaded with the GS to pray for peace, brotherly love and fear of God to reign in Okum Kingdom and Apiapum.
The 10th Anniversary of Obubra District featured Presentation of awards by some Deserving members of the District