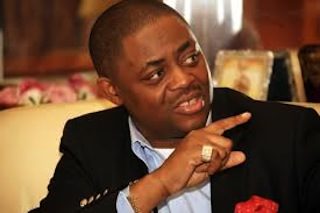 Former aviation minister and a chieftain of the Peoples Democratic Party (PDP), Mr. Femi Fani-Kayode, has asked President Muhammadu Buhari to resign from office as a birthday gift to Nigerians.
Fani-Kayode who called for Buhari's resignation in a tweet on Saturday described the president as a disaster to the country.
While congratulating the president on his 75th birthday which comes up tomorrow, Fani-Kayode said he disagreed with him on everything "and I deplore his agenda and ways."
Read Fani-Kayode's tweet below:
I congratulate @MBuhari on his 75th birthday even though I disagree with him on virtually everything and I deplore his agenda and ways. I believe that he has been a disaster as Pres. and that the best birthday gift he can give the Nigerian people is his resignation letter.

— Femi Fani-Kayode (@realFFK) December 16, 2017
Fani-Kayode who is facing trial for money laundering was also the former Director of Media and Publicity, PDP Presidential Campaign Organisation.