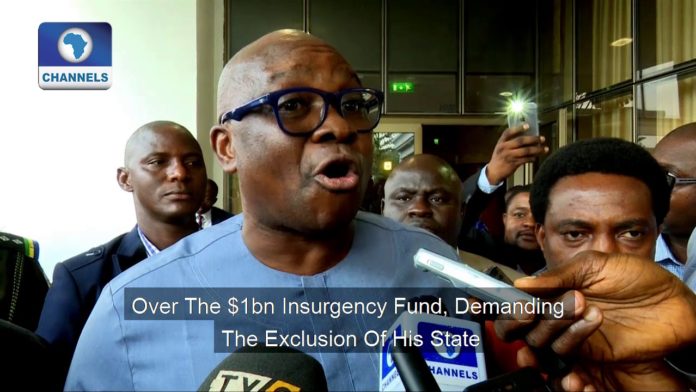 Governor Ayodele Fayose on Tuesday said the Federal Government should pay attention to the sufferings of the residents of the state describing the situation in Ekiti State as Hunger Haram.
He said this after an emergency meeting of the Governors Forum and Speakers of State House of Assembly after the Governors Forum has given the Federal Government approval to spend the sum of $1billion to tackle insurgency, a decision which has sparked criticism.
Fayose who has distanced himself from this decision suggested that the $1billion insurgency funds should be shared by all the state governors for them to tackle their challenges effectively adding that Ekiti State is confronted by numerous challenges including hunger and kidnapping.
"Every state has its own peculiarities in terms of security. Ekiti has hunger haram where hunger is catching people everywhere. A lot of people are being kidnapped daily.
"They (the FG) either vote money for me from the $1billion or we share the money for everyone to go and solve their problem. I have challenges and I have to be left to handle my challenges. They should give me Ekiti money," he said.
He said further the decision of the Federal Government to spend such amount in tackling insurgency will be questioned by the people of Ekiti state as they have approached the court.
"My state, we have approached the court for justice, because it is our legitimate right. All accruals to the Federal Account must be shared by all the three tiers of government. For me to get justice, I have to go to court, and I have gone to court," he said.
The Chairman of the Governors' Forum, Yari Abdul Azeez, however, insisted that the $1billion insurgency fund should not generate controversy as the decision was jointly reached by the state governors to tackle the national issue.
"The number present was 32, so if someone, who was not in attendance said he has his own way of where he wants things to go. We have the majority and there is no minority opinion. We look at our country, Nigeria first before any politics."
This leaves the situation unclear where the controversy surrounding the $1billion insurgency fund to be removed from the Excess Crude Account will lead to as more Nigerians hope for an amicable resolution.