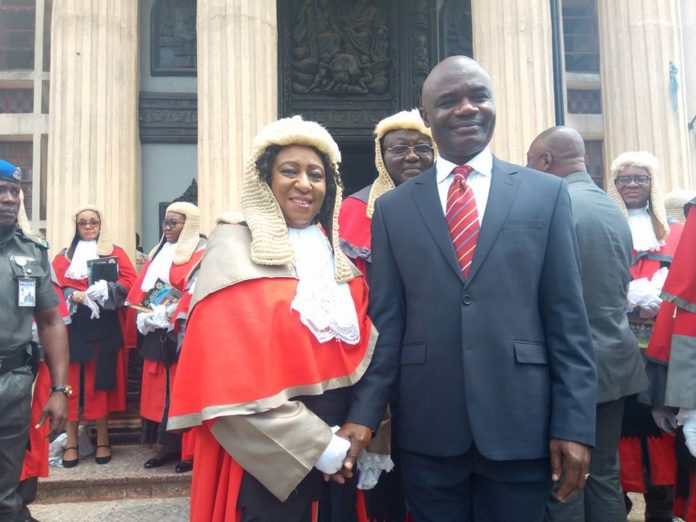 The National Judicial Council has Invited the Embattled Chief Judge of Abia State Justice Theresa Uzoamaka Uzokwe to Abuja,PUO Reports can authoritatively confirm.
According to the Information made available to our Newsdesk by the Director of Information of the National Judicial Council(NJC) Mr Seji Oye,the Suspended Chief Judge of Abia Justice Theresa Uzokwe is to appear before the National Judicial Council by 10am on Monday 29th January 2018.
Although the Spokesman of the NJC refused commenting on the Suspension of the Abia State Chief Judge but merely asked our Correspondent to wait till Monday,it was gathered that the Inviation of Justice Uzokwe borders on the Reported Suspension of the Judge by the Abia State House of Assembly on Friday.
It will be recalled that the Abia State House of Assembly had yesterday at an emergency sitting adopted a motion for the Suspension of the State Chief Judge over allegation bordering on unending act of tyranny,gross misconduct, among others.
This followed a motion moved by the Deputy Majority Leader of the House and Member Representing Obingwa East State Constituency Hon.Solomon Akpulonu and seconded by the Member Representing Aba Central State Constituency Hon Abraham Oba,the house mandated the Governor Dr Okezie Ikpeazu to appoint a New Chief Judge on Acting Capacity, pending the determination of the petition against Justice Uzokwe.
The House in making the decision said they were being guided by extreme urgent Importance of the matter in order to avoid down slide of Justice Administration in Abia State.
However the decision of the Abia State House of Assembly is being faulted by Legal pundints who said that the the Supreme court has held or decided that the Governor can't even remove under S.292(1)b where the allegation bothers on ill health, that the NJC must be carried along, they are the supervisory body over judicial officers and that Under the ground of misconduct, the NJC is the body that can tell you whether there's been a misconduct or contravention of the code of conduct of judicial officers.
PUO REPORTS gathered that the Suspended Abia State Chief has okayed her Lawyers to take the matter to Court.