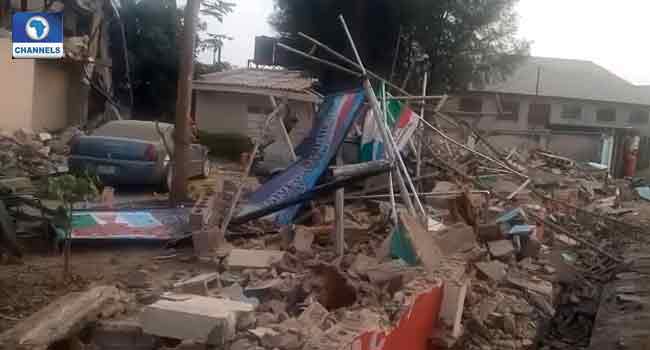 The new faction of the Kaduna State All Progressives Congress (APC) has accused the state government of sponsoring the demolition of its secretariat located in the state capital describing the demolition as 'an act of terror'
The group opened the parallel office at 11B Sambo close in the state capital Thursday last week due to irreconcilable differences with the main party leadership.
The secretariat was opened after the suspension of the Senator representing Kaduna north district, Suleiman Hunkuyi and expulsion of 28 other members for anti-party activities.
The faction on Tuesday pointed accusing fingers at the state government and claimed the government sent its agents to demolish the secretariat. The group said the demolition is 'a deliberate act of terror' and that it is intolerance against the opposition by the state governor Nasir El-rufai.
A  Chieftain of the APC loyal to the new faction, Mikaiah Tokwak, told Channels Television that the action has laid credence that their constitutionally guaranteed rights to freely associate is now under attack.
The Senate had earlier today condemned the demolition of the factional secretariat. Senator Shehu Sani during the plenary coming under a point of order said he wonders how Governor El-Rufai a democratically elected governor would demolish a building without notice.
Some soldiers were reported to have supervised the demolition of the factional secretariat on Tuesday morning. The secretariat is said to belong to the faction loyal to the suspended senators representing Kaduna Central, Shehu Sani and that of Kaduna North zone, Suleiman Hunkuyi.
CHANNELS