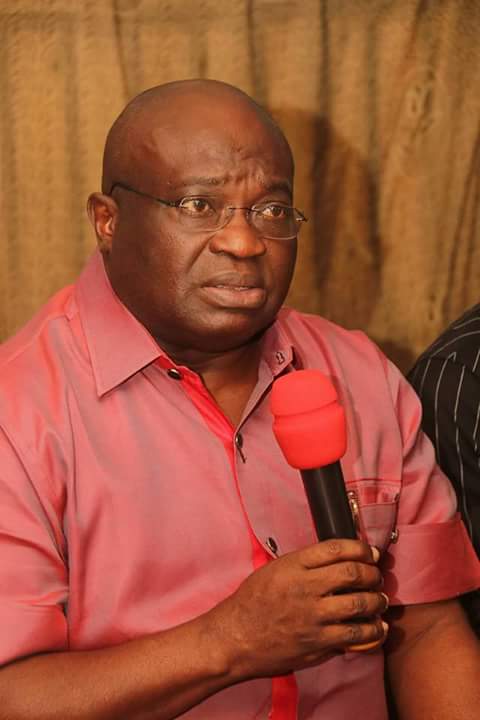 The Abia State governor, Dr. Okezie Ikpeazu has been accused of playing a role in the recent attempt to created a factional leadership of the Indigenous People of Biafra, IPOB.
A press release by the group, signed by its media and publicity secretary, Mr. Emma Powerful and made available to journalists on Saturday, claimed that the governor in collaboration with the department of state services, DSS created a fictitious figure as factional leader of the group to whittle down IPOB's growing influence.
The group specifically named Ikpeazu, accusing them of working to please the federal government, with the hope of securing their support for a second term.
"Some treacherous Igbo politicians, in their quest to please their Hausa-Fulani masters, have wasted and continue to waste scarce resources running into millions in their futile effort to prove to those at Aso Rock that control them that they can divide and destroy IPOB from within.
"Nigerian government out of desperation to divert attention from relentless criticisms of their role in the massacre of indigenes of Abia State in cold blood and invasion of the home of our leader, Mazi Nnamdi Kanu, which Okezie Ikpeazu and Nnia Nwodo played a major role, quickly decided to use the newly launched BBC Igbo Service and national newspapers to launch what they thought would be a decisive counter."
IPOB said the character; Okwudili, who the DSS through the help of Ikpeazu created as factional leader of the group, only exists in a computer hardware.
It challenged them to name his state of origin, community or family background if the character truly existed.
IPOB added that the generation of the name was targeted at deflecting the attention of the people, especially with the new Amnesty International report on Nigeria which indicted Ikpeazu for his role in the murder of hundreds of unarmed IPOB agitators at Kanu's residence in Afaraukwu Umuahia Abia State.
"The military invasion of the home of our leader is the fifth time Okezie Ikpeazu has been directly implicated in mass murder in his three years in office.
"What other better way to deflect this terrible record from the minds of the people if not by parading a faceless, unidentifiable entity as IPOB factional leader?" Powerful asked.