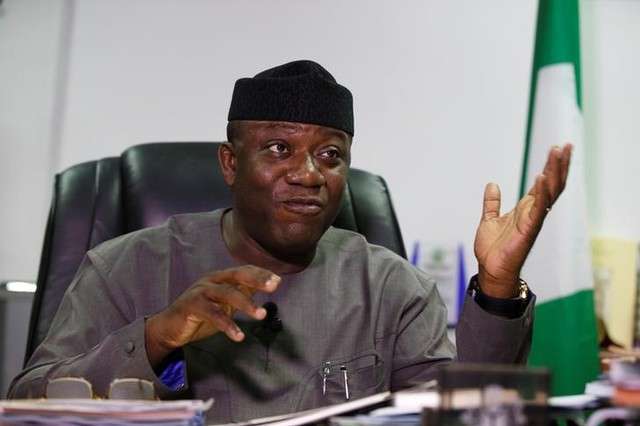 The politician who hired the services of the policeman who fired shots on Friday at the All Progressives Congress (APC) campaign rally in Ado Ekiti, Tayo Adebiyi, has denied the allegation that he plotted to assassinate the party's governorship candidate, Kayode Fayemi.
Mr Adebiyi, a House of Representatives' aspirant on the platform of the APC, is still in the custody of the police in Ekiti State.
The state chairman of the party, Jide Awe, on Saturday described Mr Adebiyi as an unknown party man in Ekiti, and accused him of hiring the policeman to kill Mr Fayemi and other chieftains of the party to destabilise APC.
The Director General of Tayo Adebiyi Campaign Organisation, David Ayeni, told journalists on Sunday in Ado Ekiti that his principal brought the policeman in view of the rampancy of kidnapping along Efon-Iwaraja-Erinmo in recent times.
"The accidental discharge that occurred during the APC Friday rally was as a result of a struggle that ensued between the mobile policeman and some unknown thugs that invaded the venue of the rally. The incident happened while he was trying to maintain law and order at the venue," Mr Ayeni said.
"There is no iota of truth in the news flying around the social media that the mobile police was hired for the purpose of assassination of the APC candidate, whom Adebiyi has been up and down promoting through political campaigns and advertisements since year 2014."
He said the shooting at the rally was regrettable, but insisted it was a clear case of accidental discharge as stated by the state police command.
Mr Ayeni appreciated the Nigeria Police for their effectiveness, by promptly bringing the situation under control, saying this reduced the number of casualties.
A former federal lawmaker, Opeyemi Bamidele, and at least two others were injured in the shooting.
Mr Ayeni added that Mr Adebiyi had been one of the highest financiers of the Ekiti APC since 2014, expressing regret on why he was being denied on account of the mistake by his security guard.
According to Mr Ayeni, the policeman who committed the offence was duly requested for and was not on illegal duty in Ado Ekiti, contrary to the claims by police.
"My principal, Prince Adebiyi, is a peace loving chieftain of the All Progressives Congress who has been contributing immensely to the party advancement since 2014," he said.
"He presented a campaign vehicle for the party during Fayemi's re-election in year 2014. He had since provided a vehicle for his campaign even before he won the ticket of the party this year.
"It therefore becomes illogical and unreasonable for any Nigerian to think and hold the opinion that Adebiyi , who is a prospective candidate of APC to run as a member of House of Representatives in 2019 and a strong associate of Dr. Fayemi will conspire to bring down the party."