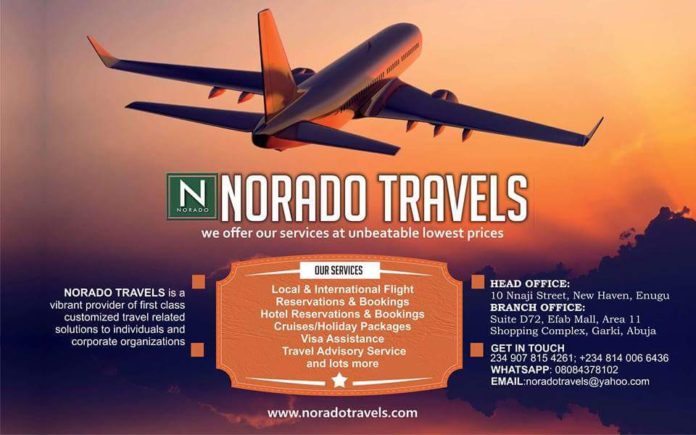 Norado Travels is a provider of first class customized travel related solutions to individuals and corporate organizations. We offer travel management services at unbeatable lowest rates.
"We are not here to increase the list of Travel Agencies but we are here to improve on already existing agencies by making travel affordable to all classes of people in the society." , the Manager said.
We've built strong partnership with travel practitioners all over the world to guarantee quality service delivery for maximum client satisfaction.
We offer the best and cheapest price on the market. Norado Experience shall convince you.
Here are what some customers said about us:
"I have been travelling since 1998, using different traveling agencies. My meeting with Norado Travels has given me a different experience. Norado Travels is very efficient, they are expert at getting the cheapest tickets for her customers whether for Business or Economic Class. I got a fare difference of over N600,000 with two of my former traveling agents compared to what Norado Travels gave me in the last ticket I bought from them. They get ticket with very minimal layovers for transit passengers. I highly recommend Norado Travels to any frequent flier, their services remain the best." – (Dr. John Amah, District Superintendent, Assemblies of God Nigeria, Sango District).
"NORADO TRAVELS makes it convenient, cheap and easier. Thanks for your integrity and efficiency. Count on my patronage. More Grace." – Don Odunze
You can also book by yourself on www.noradotravels.com
Office Address:
Head Office: 10 Nnaji Street, New Haven, Enugu
Branch Office: Suite D72, Efab Mall, Area 11 Shopping Complex, Garki, Abuja
Phone Contact: 08140066436, 09078154261
Whatsapp Phone No: 08084378102
E-mail: noradotravels@yahoo.com
Website: www.noradotravels.com