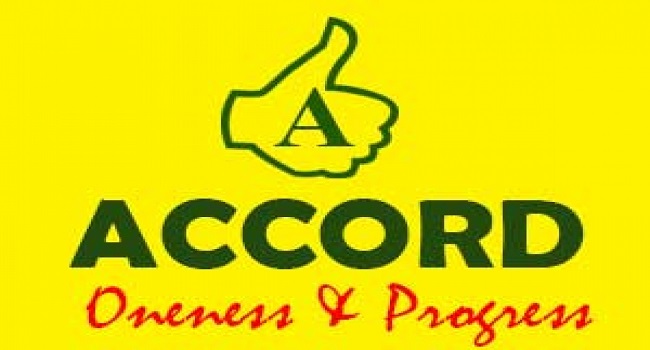 Former Ekiti State Deputy Governor, Chief Abiodun Aluko, has declared that he remains the candidate of Accord Party for the July 14 governorship election.
Aluko said the party structures are still intact despite the exit of some of its members who have entered into an alliance with the People's Democratic Party (PDP) candidate, Prof. Kolapo Olusola.
The Accord flag bearer said the action of the party leaders and members who have pledged to work for Olusola's victory was borne out of greed.
Addressing a news conference in Ado-Ekiti, Aluko said a former governorship aspirant in the party, Akogun Banji Ojo and the State Chairman, Chief Matthew Odeoba who are behind the alliance with the PDP do not enjoy the support of majority party members.
Aluko said they gave gone to dupe Governor Ayo Fayose because they have found a willing buyer who was ready to pay for their services
He said: "I have a strong belief that these people only took the action to dupe Governor Fayose. They got a willing buyer in Fayose and they believe they have got somebody they can suck," he said.
Backing his argument with documentary evidence, Aluko said the crisis was sparked by Ojo's demand for N65 million he (Ojo) had allegedly spent as expenses on the party before Aluko's arrival.
Aluko said he rejected the request based on conviction that it was meant to extort him, since the party has no verifiable structure in the state to buttress Ojo's claim.
"After my initial refusal, the national body said I should give him a sum of N5m, but he rejected. Rather than paying such huge money, I would rather spend in building structures for Accord and that I have been doing.
"Being a former Deputy Governor, they though I have a mint machine at home whom they thought they could suck.
"So, their opposition to my candidacy has nothing to do with my capability or financial wherewithal, but some people are out to make money from the governor, that was why they have been raising all manners of false allegations to justify their pay.
"We are just trying to build structures at the wards and local governments so that it can be on ground to win election.
"I may not have the whole money to prosecute this election, but I have the goodwill among friends and well-wishers who believed in our ability to make a change in the lives of Ekiti, they too shall contribute to our campaign."
NATION