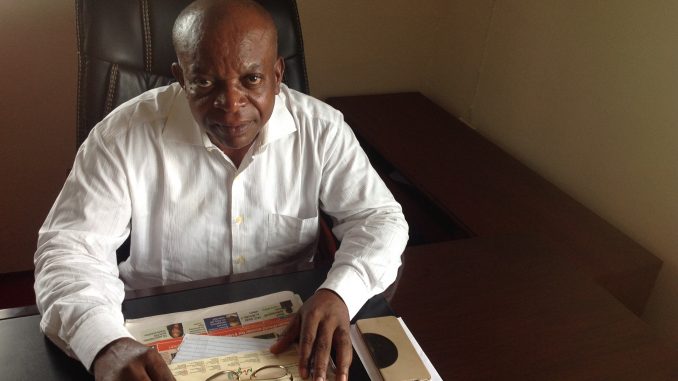 Hon. Chidi Nwosu is not a stranger in Abia politics. In 2002, he was instrumental to the formation of the All Nigeria Peoples Party ( ANPP) in Abia. He represented Umuahia South state constituency in the Abia State House of Assembly from 2007 to 2015 on the platform of the Peoples Democratic Party ( PDP). During the protracted PDP crisis, he was in the camp of the erstwhile National Chairman of the party, Alhaji Modu Sherif but shortly after the tussle he defected to the All Progressive Congress ( APC). After a brief stop over in APC he joined the Social Democratic Party ( SDP) where he is currently the Steering Committee Chairman in Abia State.
In this explosive interview with our Correspondent, Nwosu predicted that SDP would take over Abia in 2019. The ex- lawmaker also spoke on why he dumped APC and PDP respectively.
He said he left PDP when it became obvious that the leadership of the party was derailing and unwilling to heed wise counsel. He however regretted his brief stop- over in APC, a party he dismissed as harbingers of 'fake change'.
Nwosu confessed that though a PDP lawmaker in 2015 he voted for President Muhammadu Buhari of APC due to wrong and deceptive perception of his personality as a man of integrity, an action he said he would ever live to regret. He likened his defection to APC as " running from frying pan to fire".
" In 2016 when I discovered that PDP was going down the drain I joined APC. I was not comfortable with the way the then President, Goodluck Jonathan was running the country. I saw Buhari as a man of integrity and I voted for him against Jonathan though still in PDP. But I was disappointed by Buhar's performance. APC is a disaster to Nigeria. It was like running from frying pan to the fire. I regret such action".
Nwosu said that when SDP appeared on the horizon as a nationalistic party with vision he decided to join the party because of its ideologies and manifesto, which according to him will guarantee the future of Nigeria. Identifying political restructuring as key on the party's manifesto, Nwosu said Nigeria is on the brink of collapse unless it is quickly restructured to correct the endemic imbalances in the system which, he said have remained the causes of constant frictions and tension in the polity. He said that any party opposed to restructuring is only postponing the doom's day.
" SDP has restructuring as our key promise to Nigerians. We must restructure now because without restructuring Nigeria won't move forward. APC can't restructure Nigeria and PDP missed its opportunity to do so. Nigerian must od je dgive us the mandate to save the country from implosion."
He also said the ideology of SDP is anchored on the principles of internal democracy. " We believe in direct party primaries unlike in PDP and APC where one man sits in his parlour and writes the list of his anointed candidates".
Asked why he believed SDP which is relatively a new party could dislodge both the ruling PDP and some major opposition parties in the state come 2019, the ex- lawmaker said "Abians are tired of old parties" and are in search of progressives who will address their challenges. He said the ruling "PDP is not in control" of the state.
" Abia is a PDP-led state and not PDP- controlled state. If not for the gimmicks and manipulations PDP would not have won the 2015 election in the state. Till date, PDP has continued to lose its members in the state. APC is not on ground either. It is already a divided house and cannot stand. What we have in Abia is PDP and APGA ( All Progressive Grand Alliance) but instead of providing the needed opposition APGA is rather losing its ground. Its members in the House of Assembly are busy defecting to other parties. So, APGA is already a failed party just like PDP in Abia. Come 2019 SDP is taking over."
Asked of the followership of the party and the number of political heavy weights in its kitty, he said SDP is visible in all 184 political wards in the state. " We exist in every political ward and the 17 LGAs. No party in the state has a befitting state secretariat as ours. Even PDP which has ruled the state for 16 years is still operating from a rented office apartment because it is not investment oriented.
On the number of political big wigs the party can boast of in the state, Nwosu said : "SDP is only interested in the masses and not expired political big wigs without any political value. The big wigs are the ones that have kept Abia down. How many of them are not being chased around by EFCC (an anti-graft agency) ? We have no room for people without integrity unless they show sufficient sign of repentance."
Nwosu was unequivocal on the position of SDP on power rotation as he declared that the party is vehemently opposed to zoning which according to him " is the reason Abia is where it is today". He said "zoning gives room for mediocrity" , insisting that the party's governorship candidate would be purely by merit irrespective of his or her zone. " Any competent person that can move Abia forward will fly our flag. Zoning is what put us where we are today."
Giving his assessment of the PDP- led administration in the state, Nwosu said the administration has under-performed in virtually "all facets." " Can you say the health centres in the state are functioning well? Workers are owed for months. If not for the private sector our educational system is gone. Infrastructure is in sorry state. I stand to be corrected, Abia is the least-developed state in the whole of South East. They collect allocation from Abuja every month but achieve little. They have also not told us what the internally generated revenue of the state is."