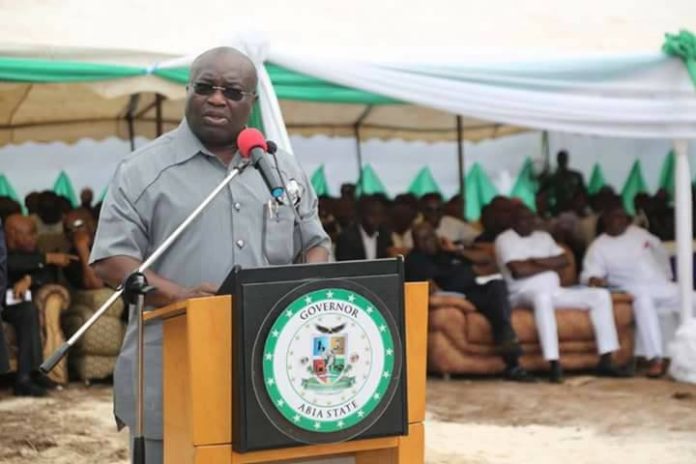 Abia State Governor, Okezie Ikpeazu has said that the peace and unity of the country is seriously threatened hence the need for clergymen to continually uphold his government and the state before God.
The Governor made the plea at an interdenominational church service/reception organised by the Aba Ecclesiastical Authority and pastors at Abia State Polytechnic, Aba.
Governor Okezie Ikpeazu who said he was encouraged by the fact that he can do all things through Christ who strengthens him appreciated the clerics for their prayers for his government and Abia at large and called on the clergy to say the truth at all times as part of their support for his administration.
He explained that Nigeria needs prayers now more than anything else as the peace and unity of the country is seriously threatened; reminding them that civic duty is the responsibility of all. Dr. Ikpeazu admitted that Abia had a faulty foundation but noted that because God's name is inscribed on Abia, he is committed to ensuring that Abia would be better. He called for collective prayers of all to God for mercy on Abia and grace to do more.
The Governor reiterated his commitment to leave a better Abia everyone would be proud of especially in infrastructure development, while expressing belief that Abia State Polytechnic would be a citadel of envy to all. He further reaffirmed his commitment to the payment of workers' salaries especially teachers in the state and promised to keep tackling the issues in the state till he gets Abia right.
Governor Ikpeazu who reaffirmed his commitment to tackling unemployment said "I am sure and confidence that under our watch unemployment will be tackled because you must pray for the Enyimba Economic City. It will make our economy nothing less than what is in Rivers State. I am sure about it. I am certain about it because there is nothing you have asked God that he did not do.
A lot of great things are going to happen under our watch, not because of our strength but by the mercies and grace of God".
Prayers were offered for the Governor and his Deputy.