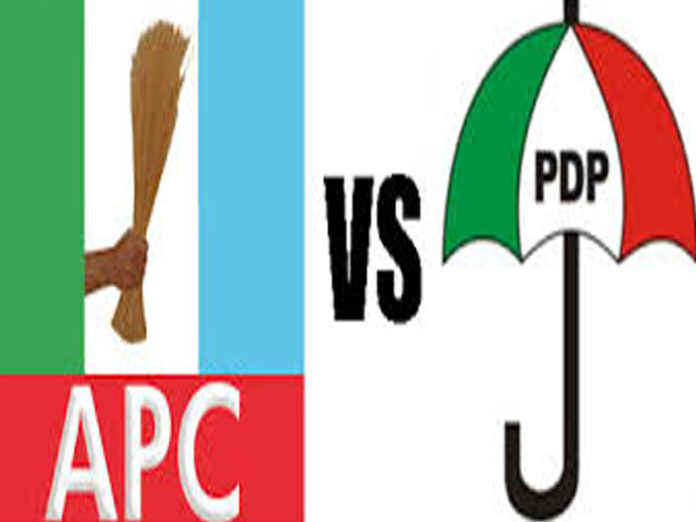 The battle line seems drawn between social media followers of the ruling All Progressives Congress and the opposition Peoples Democratic Party.
Trouble started when the Senior Advocate of Nigeria and the Director, Strategic Communications of President Buhari's 2019 Presidential Campaign, Fetus Keyamo, tweeted:
APC Retains Senate Majority Seats – Majority Leader, Sen. Ahmed Lawan – All Progressives Congress (APC) https://t.co/2XVLgNjiWR
— Festus Keyamo, SAN (@fkeyamo) July 25, 2018
The responses are swift and unsparing:
A senior advocate of Nigeria encouraging himself, you guys better stop this or risk what happened in 2015. This was how PDP was bragging even with all the defections.
— Ibitomisin Sanmi (@Samtomisin) July 25, 2018
Even if you retain the Senate majority seats, you haven't retained the hearts of majority of Nigerian
— whistleblower (@hollaoluwa) July 25, 2018
@APCNigeria remains majority party in the senate in terms of numbers.Out of the 109 senators,APC has 52,@OfficialPDPNig has 50, ADC has three & @ApgaHQ has two. And you'll recall that APC lost two of its colleagues. So they have two vacant seats & total gives you 109."
— Okeke Uzoma E. Alex (@OkekeUzomaEAle1) July 25, 2018
Barrister @fkeyamo let me tell you this.@OfficialAPCNg is a political COUP not a political party. It was formed to usurped Jonathan/@OfficialPDPNig govt nothing more.
Having no real goals or direction, no ideology, they step into office with clueless president.
APC is dead
— EgalitarianAremu (@danielaremufory) July 25, 2018
And can you tell me the direction of PDP for the past 16yrs? Am not an advocate of APC or PDP but truth be told PDP has been a failure all dese yrs and those that switch party only do it for their selfish and personal aggrandizement not 4 d luv of the massees.
— AMSAT YUSUF (@wasiulivapool) July 25, 2018
They only switch party then because they see more fortune with the APC, and now they've been faced with the reality they start shouting foul play, unless we the Nigerian masses emancipated ourselves the political elites will continue playing on our gullible and susceptible pysche
— AMSAT YUSUF (@wasiulivapool) July 25, 2018
I guess you slept with this thought or you actually had a sleepless night because of the doom that lies ahead of The APC
— Adimula Olubuse (@AsiwajuAdeyemi) July 25, 2018
Lol, of what benefits is this to the common man.
— Emmanuel Odunsi (@ToksOdunsi) July 25, 2018
Let all the two occupants of the Senate and HOR defects: @MBuhari would still defeat their candidate ; it is masses against thieves now
— Baba Abbey (@TAIWOISAACABIOD) July 25, 2018
The battle line has been drawn. This is the final war to rid Nigeria of its corrupt elites and politicians. The masses will win this war with the help of an astute battlefield tactician and military strategist. A new Nigeria is on the horizon.
Sai Buhari!!! pic.twitter.com/5gPXfMKKBe
— Abbas L Ibrahim (@abbashawk) July 25, 2018
I cannot explain the charisma of Buhari anymore, his supporters grow stronger whenever the President is attacked or threatened politically. Even DaddyFreeze had to attack Oyedepo after his message to PMB to resign. Facebook yesterday was all about the love for PMB .
— omasoro ovie ali (@ovieali) July 25, 2018
See this one talking abt MAJORITY wen many are still planning to leave the party…Jus wait and see what's going to happen in next year election by then u will know…U guys jus stay there be giving PMB fake assurance the same tin apen to GEJ which he later blame himself…Hisss pic.twitter.com/iiGkglEvv4
— MikePeter🏰✈🇬🇭🇳🇬🇺🇸 (@Mikepeter2657) July 25, 2018
…..And still counting. Many more Legislators will defect in a matter of days. Power belongs to the common man. This is an era of "OPERATION BURN THE EVIL BROOM".
— Oluseyi Gbenjo (@oluseyigbenjo) July 25, 2018
On lighter note . This is the image of Festus Keyamu n APC national chairman when he heard about de defection in national Assembly. More defection coming soon. Stay tuned @fkeyamo u will soon know how far rubbish human rice activist pic.twitter.com/sIzpdAsOuE
— Jngwobia (@Jngwobia1) July 25, 2018