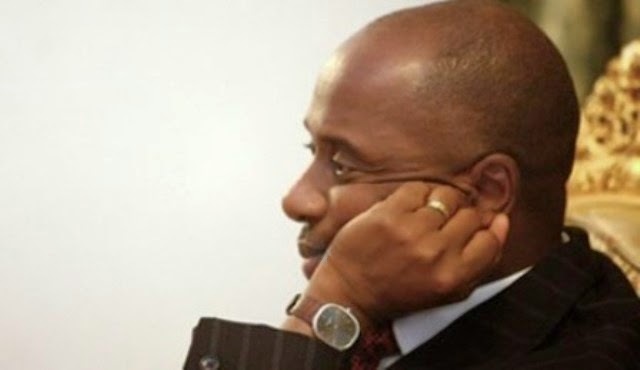 sources say Oshiomhole believes Amaechi is funding negative media campaign against him
Despite denials by embattled Minister of Transportation, Chibuike Rotimi Amaechi that he did not call Factional National Chairman of APC, Adams Oshiomhole 'badluck' to the party, Oshiomhole on Wednesday commenced extensive moves to sanction the former Rivers State Governor.
Amaechi and Oshiomhole are in a bitter fight over the APC structure in the South-South. Amaechi has deployed his financial war-chest to buy over supporters of Oshiomhole.
Oshiomhole reportedly told officials of the party that Amaechi's subversive moves against him have gotten out of hand.
The APC National Chairman, sources say, was said that the Former Rivers State Governor has been sponsoring media and online attacks against him, even before the horrendous mass decamping of APC National Assembly members to PDP.
Our sources noted that Oshiomhole on Wednesday night met with APC leaders from the South-South were it was agreed that Amaechi should be ostracized. Senator Magnus Abe, Rivers APC leader attended the meeting with Oshiomhole.
It was resolved that the APC National Secretariat will respect the Court Judgement that annulled the Rivers AOC State Congresses. It was further resolved that Senator Magnus Abe faction in Rivers State is the authentic faction in view of Amaechi's anti-party activities.
Amaechi and Labour Minister, Dr Chris Ngige are leaders of the Forum of Buhari Ministers bent against Oshiomhole whom they insist will lead the party to defeat in 2019.
In his denial of his subversive activities against Oshiomhole, Amaechi claimed he never insulted the embattled National Chairman.
In a statement signed by Festus Keyamu, Amaechi said: ""Our attention has been drawn to a news item purporting that the Director-General of President Muhammadu Buhari Campaign Organisation, His Excellency, Rt. Honourable Rotimi Amaechi, disparaged the Chairman of our great party, the APC, His Excellency, Comrade Adams Oshiomhole to the effect that he is 'bad luck' to the Party.
"This news item is a classic case of the much-touted 'fake news' that has become a tool in the hands of desperate politicians."
On Thursday, Amaechi sent three South-West APC Governors to beg Oshiomhole to forgive him. Sources claimed that Amaechi said that the controversial report was sponsored by his political enemies.