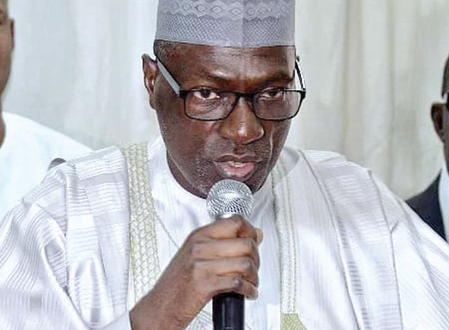 IMMEDIATE past National Care Taker Committee Chairman of the People's Democratic Party (PDP), Senator Ahmed Mohammed Makarfi has cautioned those who are bent on truncating our democracy not to ridicule us before the comity of civilised nations.
In a statement issued in Kaduna on Monday and signed by his spokesman, Muktar Zubairu Sirajo noted 'Nigerians woke up to yet another tragicomical drama, this time around playing out in Benue State.
The statement disclosed that the PDP chieftain was disturbed at the seeming obsession with some forces who seem bent on truncating our democracy and ridiculing all of us in the comity of civilized nations.
According to him, this was happening 'despite numerous judicial pronouncements, some by even the highest court of the land, more than 2/3 of a 30-member House of Assembly will be denied access to, and in fact chased away from the House by the Police, while giving state cover to seven or so other members to sit and even attempt to impeach a democratically elected governor for the simple reason that some quarters have been slighted by the governor's decision to move from one party to another.
Senator Makarfi considers this as an unlawful, disgraceful and undemocratic act, which portends a danger of monumental proportions to the country and its institutions.
The statement maintainers that Senator Ahmed Makarfi believes that freedom of association is the inalienable right of every Nigerian as enshrined in the nation's constitution and all international conventions.
'More importantly however the fact is that impeachment of a state governor is a legal and constitutional function, the process of which is clearly spelt out in our constitution, with no ambiguity.
'The Senator reminds Nigerians, particularly the APC and its leadership that the PDP, when it held sway, respected the rights of the people to freely decide what political platform(s) to identify with, a stance that the APC more than any other party, reaped bountifully from and the fruits of which included Governor Ortom himself, at that point.
'It therefore smacks of hypocrisy and a brazen disrespect for fundamental human rights for the same party to now deny people the right defect from it for whatever reason(s). It is imperative, as far as Senator Makarfi is concerned, that people's rights and freedoms of movement and association and all other rights be respected fully by the state and its agencies; and that both the APC and its government brace up for more people exercising these fundamental rights and respect same
'The Senator appeals to the people of Benue State to, even as they resist this callous assault on their freedom, remain peaceful and law abiding and be assured that Nigerians are with them in this trying moment.
He therefore , calls on all Nigerians to, within lawful means, stand up to this brazen attempt to stifle the democratic space by a party that was the biggest beneficiary of defections, which is now jittery and clearly uncomfortable at the prospect of getting a dose of its own medicine.
'For the umpteenth time, Senator Makarfi reiterates his call for the restructuring of our institutions and agencies to make them more answerable to the State rather than the political operators.