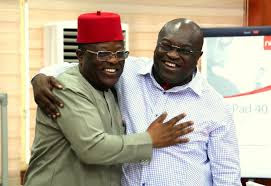 The leadership of Ohanaeze Ndigbo Youth Council Worldwide is happy with the development strides of Governors Ikpeazu and Umahi in Abia and Ebonyi States
The States had witnessed massive infrastructural facelifts in Abia and Abakiliki, and Urge federal government to compliment the efforts of these two Governors in Area of erosion control in isuikwuato and Abakiliki ugep road,which is a death trap for motorists.
We applaud the the mutual co operation between President Buhari and these two Governors, especially with high regards to ensuring that South East get their fair share from the projects and economic programs of President buhari, these two Governors ensure that irrespective of party politics, Governors Ikpeazu and Ugwanyi synergy with federal government will yield results to Ndigbo
Dr Ikpeazu will win in the next polls based on his humility and peaceful disposition and made in Aba products which had restored confidence in local traders and artisans to compete favourable in African markets and world's markets and Governor Umahi remains an embodiment of unity among Igbo's,his approach to governance in Ebonyi is unprecedented, we advice federal government to explore this relationship between President buhari and Governors Ikpeazu and Umahi for mutual development.
Abians and Ebonyians are behind their Governors in 2019,And let nobody be decieved t that they're in charge of South East, the igbo Youths will only listen to these two Governors regards to where Ndigbo will vote in 2019,there's no alternatives in Abia and Ebonyi States regards to governorship elections rather than Governors Ikpeazu and Umahi.
Comrade Obinna Achuonye
Deputy President general
Ohanaeze Ndigbo Youth Council Worldwide