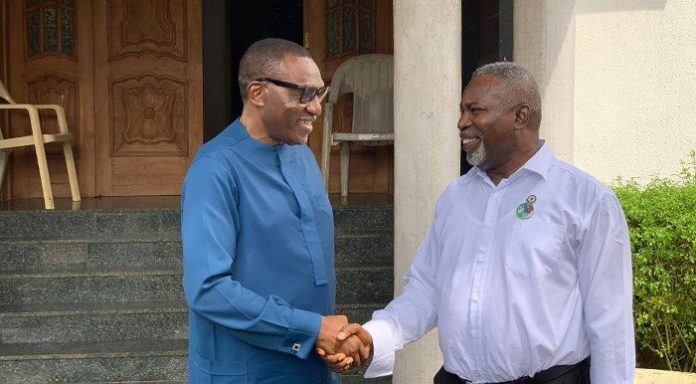 Col. Geoff Onyejegbu, has stepped down from the race and has backed Sen. Andy Uba to clinch the ticket.
Sen. Uba who posted a video of the speech where Onyejebu endorsed him to carry on, said that; "I want to thank most sincerely Col Geoff Onyejegbu and our party leaders for the successful consensus building ahead of the senatorial primaries of our great party, the APC.
"I assure the good people of Anambra South and the South East that I will continue to do my best in ensuring good governance and quality representation if elected in 2019".
The Colonel who spoke in the video, said that his decision to give up his aspiration was in order to align himself with the decision of the leadership of the party.
He said that the party at the National level had decided to return all the senators in the party for keeping faith with the party.
"I support and yield to Senator Andy to go and represent us, and get to the big picture of getting the sentae presidency," he said," he said.
Senator Uba in his response thanked the Colonel and members of the party for the support, stressing that there was no monetary inducement involved.
He rather explained that Col. Onyejebu has rather agreed to contribute to the campaign to return him (Sen. Uba) as the senator representing the zone.
The stepping down by Onyejegbu was simultaneous with the endorsement of Sen. Uba by stakeholders from Ozubulu, Ihembosi and Oraifite (hometown of one of the contenders), for the ticket.
Coming barely 24 hours to the senatorial primaries slated for Tuesday, the stakeholders hailed Uba as the best candidate among all the contenders to represent the Zone and therefore advised other aspirants to step down for Uba.
According to the stakeholders, they reached the resolution after extensive consultations and consideration of key factors and therefore came to the conclution that Sen. Uba was better than all the other good contenders.
They observed that Sen. Andy Uba, being the highest ranked APC senator from the Southeast, would in the 9th Senate, be the most qualified to become president of the Senate.
According to them, the prospect of the zone producing the next Senate president, is a fundamental reason for everyone to support Sen. Andy Uba.
Commending Col. Onyejegbu for his maturity, sagacity and sacrifice, a lecturer at the Takoradi Technical University, Ghana, Dr. Hyacinth Offodeme said, that the people of Anambra South will remain grateful to Onyejegbu for his sacrifice, which will put the senatorial zone in comfortable position to produce the next Senate president.
Dr. Offodeme, an indigene of Ekwusigo Local Government Area called on other contenders to to emulate Onyejegbu and step down for Sen. Uba.
PM NEWS