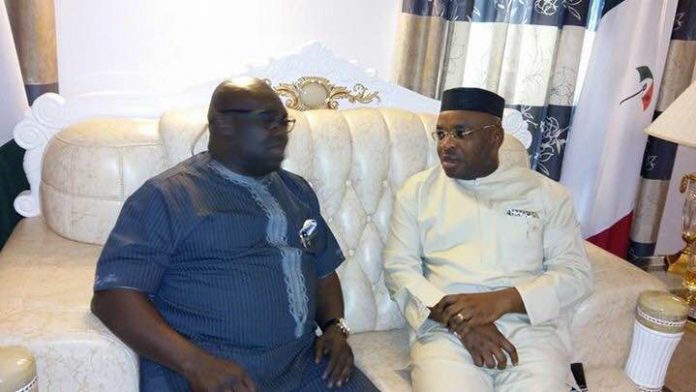 Abia and Akwa Ibom states government have directed the immediate stoppage of work on the electricity transformer project on the disputed land between the Akirika Obu, Ukwu East LGA and Ikot Udo, Ika LGA of Akwa Ibom to forestall further break down of law and order.
The directive became necessary following complaint by the Akirika Obu community, Abia state that the electricity project being undertaken by the Akwa Ibom state government is been cited on their land been disputed by their Akwa Ibom neighbour.
Speaking during a visit to the project site at Akirika Obu, the deputy governor of Abia state, Sir Ude Oko Chukwu and his Akwa Ibom counterpart, Obong Moses Ekpo called on the National Boundary Commission to expedite action on the delineation of the boundary lines between the two communities.
They re- echoing their stance that it was not the responsibility of the state government to determine the boundaries of any community but that of the Federal government through the NBC.
They said that while further actions should be halted in the installation of the electricity transformer allegedly been cited in the Akirika obu land but that nobody or any party should vandalize the facilities and directed security agencies to take full charge of the safety of the facility.
Sir Oko Chukwu expressed happiness of no loss of life in the disputed area in the lingering boundary crisis, appealed to the both communities to refrain from engaging in acts capable of disrupting the prevailing peace as they await final findings on the boundary issue by the NBC and cautioned against promoting any action that would escalate into loss of lives and property.
In his Rmremarks, the Akwa Ibom State Dmdeputy governor, Obong Moses Ekpo regretted the eruption of crisis in the area despite constant pleas for both communities to maintained peace and urged the boundary commission to expedite action in coming up with the report as it concerns the disputed area to enable govt cite development projects in the areas.
Obong Ekpo pointed out that both communities share close affinity being brothers and sisters separated by mere administrative purposes and maintained that no land is worth spilling the blood of another human being and urged them to continue to be their brothers keeper.
Speaking earlier, the Abia State Commissioner for Boundary Matters and Conflicts Resolution, Chief Mascot Obike Imo commended the efforts of both states governments in maintaining peace in the border communities and urged the people to toe the path of peace to minimise constant disruption of socioeconomic and human activities.
Speaking also, the Chairman of Ukwa East, Hon Lewis Obianyi commended Sir Oko Chukwu for not to have allowed jet lag to affect his coming to Akirika Obu and assured the state government that the people would toe the path of peace and vote for PDP candidates in next year's polls to reciprocate government interest and programmes in the local government.