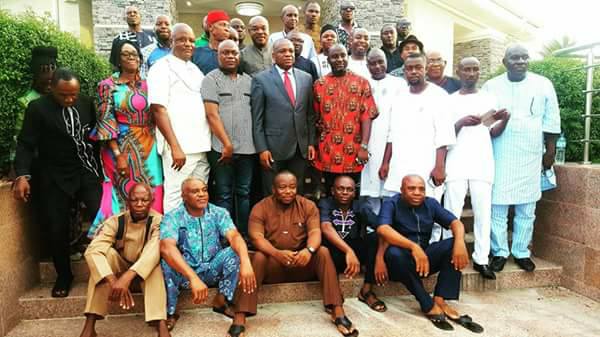 Abia State APC has faced several challenges towards and during the last General Elections. These challenges were mainly internal betrayals and sabotage by some State Party officials, Party leaders, high ranking members and few other candidates for political offices.
It is a fact that the 2019 general elections has come and gone but the effects of these internal betrayals and sabotage may linger for a long time because it's consequences will remain tough lessons for the Party and its future aspirants and candidates. These tough lessons has impacted negatively on party unity, political and social trust amongst members.
There is no doubt that the last Governorship election in Abia State was characterized by immense electoral malpractice, vote buying and intimidation of voters aided by INEC officials and security agencies. The internal betrayal and sabotage by party members made these malpractices very effective.
The case of Abia is one which left a lot of Abia people heartbroken because their true will never reflected in the counted votes. While the good people of Abia were casting their votes, the people counting the votes were busy making sure the casted votes were manipulated either by criminal suppression or outright manipulation of tallied votes and figures.
Dr. Orji Uzor Kalu laid the foundation of the destitute characterization of Abia State since the emergence of democracy in 1999. He failed going to Senate twice but stepping on the shadows of a reinvigorated APC across Abia North Senatorial zone, the journey to the Senate became easier for him this time. Once he succeeded, he turned his back on the party to achieve his selfish district agenda in 2023. His scheming for 2023 started before the APC Governorship primaries in Abia State wherein he supported a weak aspirant for Governor.
Dr Uche Ogah cannot be discounted in anywhere because his emergence as APC candidate in Abia reinvigorated the party and brought APC to limelight. APC was a party regarded as an Hausa party due to PDP propaganda and Abians never wanted to associate with it in anyway.
Dr Kalu was never interested in APC winning the Governorship of Abia State. He gave several extraordinary and uncommon conditions to the party. However, no one was prepared to mortgage the future of the State to one man who had destroyed the State in an attempt to create a personal empire.
Dr. Ogah worked tirelessly to ensure that the Presidential and National Assembly elections were won by APC in Abia, hence, the results produced by his Abia North zone in those two elections. Dr Kalu sailed through and became Senator-elect but his true intentions why he never supported Dr. Ogah in the primaries started showing after the National Assembly elections as he stayed away from all crucial party activities immediately after he was declared a winner in Abia North Senatorial election.
Three days after the Governorship election in Abia, the Kalu family started manifesting their real intentions. On 13th of this March, Mascot Uzor Kalu convened a meeting of his political associates and informed them of his intention to contest for Governorship in 2023. It became clearer to Abians why Dr Kalu sabotaged the Party in Abia and aided the incumbent PDP Governor to win.
Huge amounts of money meant for mobilization of party members for the Governorship elections and Party activities were withheld by Mascot Uzo Kalu. He never got these funds across to Party members and intentionally deprived the party of funds in carrying out their activities. He always had a sweet story to tell why there were delays or his inability to deliver funds. This was the same stories during party primary elections, campaigns and the Governorship election.
It is further alleged that Mascot Kalu kept over 15M that was supposed to be shared to party agents to himself with the aide of one Mr. Azuka, the supposed (?) House of Assembly candidate of the party in Aba.
The truth is that the Kalu family sees Abia as their empire, and that was why they have always had long battles of the wit with every leader even those who do not want a godfather. Dr. Ogah who never wanted a godfather and do not want to be part of sharing Abia patrimony.
Any attempt to even imagine that they could make Mascot Kalu a Governor by 2023 is not just laughable but a mirage. It shows how low they look at Abia people.
Abia State APC has been destroyed by the ambitions of these characters and if care is not taken swiftly, the party may not rise from these ash heaps.
My advise for Dr. Ogah and few of the party faithfuls is, the should go to court, as evidences are glaring that the results were manipulated.
It's only this measure, that can correct the abnormalities in the State. I don't have anything against Okezie Ikpeazu, but he shouldn't be allowed to ride home with a stolen mandate.
Akaranta, wrote from Aba