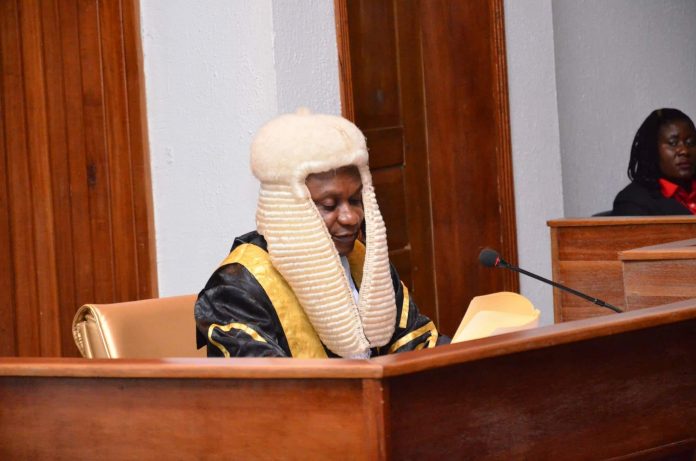 INAUGURAL SPEECH PRESENTED BY RT. HON. ENGR. CHINEDUM ENYINNAYA ORJI, SPEAKER OF THE 7TH ABIA STATE HOUSE OF ASSEMBLY ON MONDAY, JUNE 10, 2019
PROTOCOLS
My fellow Hon. Members of this House, Distinguished Abians here present, I stand in humble gratitude to God and to you for the honour you have done to me today by unanimously electing me to serve as the Speaker of the 7th Abia State House of Assembly. I thank you for the rare privilege and I wholeheartedly accept your call to serve.
I wish to assure you that at all times, I will endeavour to do my best to continue to deserve this confidence and trust that you have so resoundingly reposed in me today. God being my helper, I will not disappoint you.
I note that a number of us Members of this 7th House were eminently qualified to emerge Speaker of the House but you have chosen me to lead you as 1st among equals. I bear no grudge against anyone who indicated interest in contesting this seat with me as they were exercising their natural prerogatives. I therefore call on my friends and supporters not to cast aspersions on anyone in my name. We are one family and we will remain so.
As is customary, in a short while, I shall roll out my comprehensive agenda and direction we shall pursue in this 7th House of Assembly but for now, permit me to highlight these key points that shall serve as pointers to where we are headed.
1. This 7th Abia State House of Assembly shall be vibrant and result-oriented. We are the House of the people, by the people and for the people and we shall endeavour to make the people the centre-point of all our actions and decisions. We are therefore committed to the enactment of sound laws and legislation that will help in uplifting the lives and well-being of Ndi Abia.
2. This 7th House shall provide very sound and strong oversight functions signifying that the era of disobeying Laws and Resolutions passed by the Abia State House of Assembly is over. Similarly, the era of the non-implementation of the directives and visions of the Executive, headed by our Governor, Dr. Okezie Victor Ikpeazu is now over. Appropriate sanctions will be meted out to any official of the Abia State Government found not to be helping our Governor to actualize his visions for Abia State.
3. The Leadership of the 7th Abia State House of Assembly shall pay paramount attention to the welfare and wellbeing of its Members. I shall work with our Leader the Governor to ensure that all entitlements of House Members get to them as and when due. We shall also run a transparent administration that will leave no questions unanswered. Members of the 7th House shall be empowered to enable them empower their constituents. This is because the electorate that elected us all do not differentiate between the legislature and the executive in terms of provision of social amenities. Once you are in government, you are expected to provide amenities. We will empower Members to ensure that the expectations of their constituents are not cut short.
4. As has been our tradition in this House, once we gather to deliberate on issues, we do not have party divides and partisan leanings. The welfare of the people of Abia State is always our watchword. I am aware that Members were elected to this House under the platforms of different political parties but I call on my colleagues to uphold our age-long tradition and eschew partisan rancor and continue to allow us speak with one voice for the good of the people of Abia State.
5. Our Major role in this House shall be the protection and preservation of the equity and justice already entrenched in the state and symbolized by the current Governor of Abia State, Dr. Okezie Victor Ikpeazu. I therefore call on all 5th columnists and agents of confusion to sheathe their swords and allow us to face the task before us. Let no one attempt to sow seeds of discord between us Members and between the Legislature and Executive. Any such attempts will be dead on arrival as it is not what we have come here to do.
6. Hon. Members, Distinguished Abians. As you all know, the welfare of the youths of Abia State has been very dear to me since even before my involvement in politics. As it has pleased God to set me on this pedestal today, I will not forget the Youths of Abia State. I also note that the 7th Abia State House of Assembly is predominantly made up of youths. Policies of Government that have to do with youth employment and empowerment shall be given full attention.
I was glad when the Governor mentioned provision of jobs for the youths as his major objective in his second term. I note his enviable strides with the Enyimba Economic City and other initiatives aimed at industrializing Abia State and creating jobs for our youths. We pledge to work with him by way of legislation for him to actualize his visions.
7. In the course of my Membership of this Honourable House, I have had the privilege of working under 2 Lawyers as Speakers. Lawyers are known for doing justice to cases they are tasked with and it is my view that my 2 Lawyer predecessors did very well as Speakers. Now therefore, having tried lawyers, the mantle has fallen on an Engineer to lead this Honourable House and by training, Engineers are known for Designing and Building. Honourable colleagues, I will design and build for you all, a model House of legislative excellence and harmony that will set Abia State on an enviable pedestal. So help us God.
8. We in the 7th Abia State House of Assembly will not give credence to destructive petitions written against past and present Government Officials but will welcome constructive correspondences that will aid our oversight functions. We are not here to witch-hunt any leader of any category past and present. Those harbouring thoughts of using this 7th House to instigate crisis and a witch-hunt should forget it. We are here for serious business.
9. Let me at this juncture, thank my Constituents of Umuahia Central State Constituency and to assure them that occupying the position of Speaker does not mean that they will be forgotten. Instead, it is a bigger pedestal to ensure the continuation of our Direct Touch Approach to empowerment. May I also assure my friends the youths of Abia State that our engagements with them will still continue. Let me also encourage my Colleague Members of the House to learn a lesson from the 2019 elections and ensure that dividends of democracy get to their people. If I had relied solely on my surname and friendship with our Leader the Governor, I would not be here today. The electorate have become more liberal. Let us work for them so that our works will speak for us.
10. Finally, I wish to assure our Leader, the Governor of Abia State that this 7th Abia State House of Assembly will work very well with the Executive arm of Government to ensure expedited treatment of correspondences and Bills from the Executive arm. I have no doubt that the Executive will give the 7th House under my Leadership the support and respect it deserves for the effective discharge of our duties and I give the assurance that on our part, we will be partners in progress.
Honourable Colleagues, Distinguished Abians, I place on record that I am highly appreciative of the guidance and support of our Governor, Dr. Okezie Victor Ikpeazu leading up to today's event and wish to assure him and the good people of Abia State that this 7th Abia State House of Assembly will be one that they will be proud of. We will support, protect and preserve the Governor's vision and policy thrust for the State. He is our Leader and we will work with him to bring about the Abia he wants to build.
I must not fail to thank specially, my parents, His Excellency, Senator Theodore Ahamefule Orji, CON, and Her Excellency, Chief Mrs. Mercy Odochi Orji for their invaluable support that has brought me to this point today. I also wish to thank the State Chairman of our great party the PDP, Chief Johnson Okebaram Onuigbo and Members of the State Executives of our party for their unequivocal support. My siblings have been wonderful too and last but not the least, my dearly beloved wife Onyinye and my Children have given me the encouragement to attain my set goals. I thank you all.
I commend the Clerk, Management and Staff of this House for their diligence and dedication and assure them that they will be well looked after.
Our work has begun. I have asked God for the wisdom of Solomon to lead his people. God will not fail me. I will not fail you all. We will prove worthy of this confidence that has been reposed in us. So help us God.
I thank you all for listening and may God bless you all.
RT. HON. ENGR. CHINEDUM ENYINAYA ORJI
SPEAKER, 7TH ABIA STATE HOUSE OF ASSEMBLY
JUNE 10, 2019