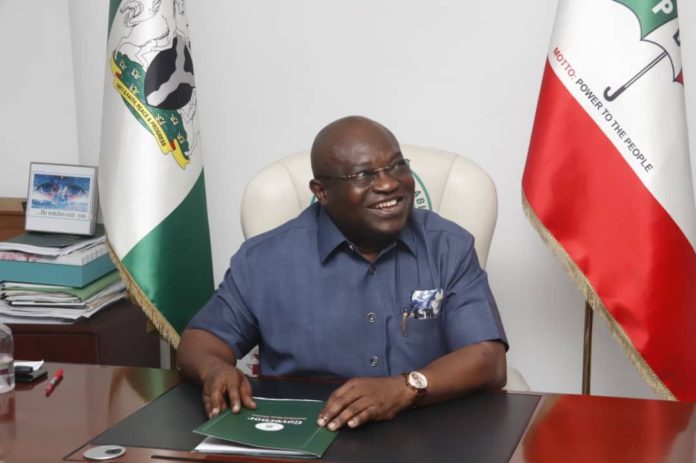 The Governor of Abia State, Okezie Ikpeazu, PhD has urged the people of Abia State to use this period of Easter to renew their hope and faith in the ability of the Almighty God to intervene in the affairs of humanity.
In his Easter message to the people of the State, Governor Ikpeazu is asking our people to see the difficulties and challenges of this period as an opportunity to reaffirm their confidence in God and pray for the continued protection of God upon our lives.
Urging Christians in the State not to allow the present challenges of the COVID-19 pandemic to make them lose sight of the power of God, the Governor made it clear that God is more than able to bring the current situation under control, even as governments all over the world struggle to do their best at a time like this.
He further urged Christians not to lose sight of the message of Easter which remains the fulcrum upon which our Christian faith revolves, restating that the death and resurrection of our Lord, Jesus Christ remain the most significant events that shape and define our Christian faith.
On the COVID-19 pandemic which remains a potent threat across the world, Governor Ikpeazu expresses his gratitude to God Almighty for His grace upon our State so far and assures the people of the State that his administration has put adequate steps in place should there be a case in the State. The Governor strongly urges our people to abide by all the protocols on personal hygiene as enunciated by the Nigeria Center for Disease Control (NCDC) including regular hand washing, use of hand sanitizers, social distancing and the regular use of face masks.
These measures, the Governor noted, are critical to the sustenance of our current zero COVID-19 status.
He further assured that a new Isolation Center will be ready very shortly in Aba as an addition to what is presently available at the two locations in Umuahia, while the one in Abia North will be ready soon.
The Governor is thankful to men and women of goodwill who have so far answered the clarion call and have reached out to the people of our State by their generous donations at this difficult period and prayed God Almighty to bless them and replenish their sources.
He assured further that the palliative food items and cash given to churches by his administration will continue and be extended to our people further through Town Unions and Traditional Rulers in the days ahead, urging the recipient organizations to apply the highest discretion in the distribution of the items.
The Governor, on behalf of his family and government, wishes the entire good people of Abia State, a happy and hopeful Easter Celebration.