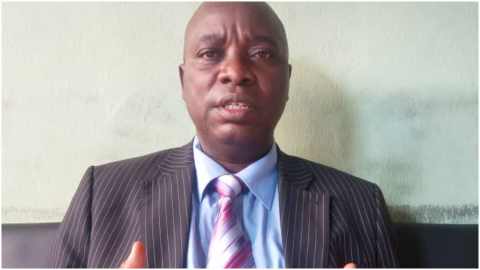 The National Coordinator of Concerned Advocates for Good Governance, CAGG, Barrister Olusegun Bamgbose, Esq., has called for the scrap of the office of the National Leader of the All Progressives Congress, APC.
The senior lawyer also noted that if nothing is done and urgently too, the ruling party may split.
According to Barr. Bamgbose, it is regrettable that Bola Tinubu, who occupies the position of the party's National Leader, lacks the courage to quell the crisis rocking the party.
Following the affirmation of the suspension of Adams Oshiomhole as the National Chairman by the Appeal Court in Abuja on Tuesday, the party has been thrown into serious confusion.
The battle for Oshiomhole's temporary replacement begun after Ajimobi's appointment.
However, the Deputy National Secretary of the party, Giadom insisted that the order of the Federal Capital Territory, FCT High Court issued on March 16, 2020 by Hon. Justice S.U Bature in Suit No. FCT/HC/M/6447/2020 to the effect that he is to act as the National Chairman of the party following the suspension of Oshiomhole remains valid.
Giadom later arrived at the APC's national secretariat Abuja on Wednesday morning where he held a press conference, declaring himself as the authentic acting National Chairman.
The situation became messier when the Vice Chairman of the APC (South-South) Prince Hilliard Eta, took over as the ruling party's Acting National Chairman and sacked Giadom as the party's Deputy National Secretary.
But in a statement on Thursday, Bamgbose noted that the disqualification of Godwin Obaseki by APC screening Committee and the Appeal Court's decision, upholding the lower court's decision, have no doubt worsened the crises in the ruling party.
"This is ridiculous and regrettable. This ugly scenario is however, not unexpected, but very unfortunate," he said.
"This has gone to openly show that the party seriously lacks viable internal mechanism to resolve issues, amicably and promptly.
"The party lacks cohesive capacity, to coordinate the affairs of the party without acrimony. Party discipline is not well-grounded in the day-to-day activities of the party.
"One does not need to be a prophet, to assert that soon, they will start washing their dirty lining outside. Court injunctions will soon be the order of the day.
"The adhesive and cohesive capacity of APC is weak. One wonders, the usefulness of the office of National leader in APC.
"The office should be scrapped or redefined. Bola Tinubu who happens to be the National Leader may not have the courage to caution the erring officials.
"It's obvious that if nothing urgent is done to rescue the situation, APC as a party may break."