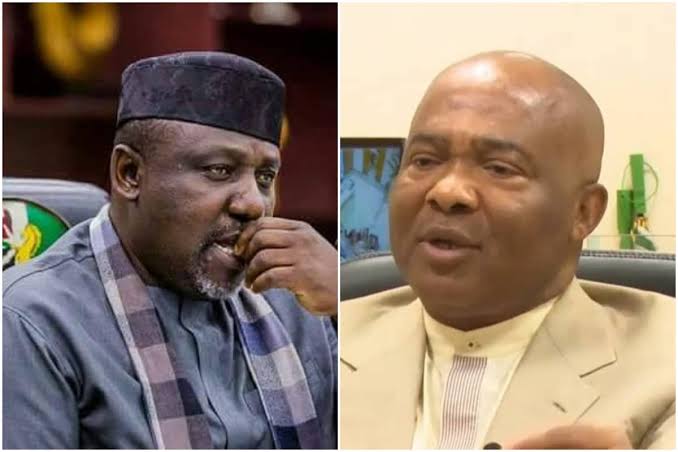 On Tuesday the Indigenous People of Biafra, IPOB, has vowed to render Governor Uzodinma of Imo State, Senator Rochas Okorocha, ex-Governor Emeka Ihedioha, and Ifeanyi Ararume politically irrelevant.
IPOB claimed that these politicians were behind the killings, destruction of properties and insecurity in Imo State.
The spokesman of IPOB, Emma Powerful, said the named politicians contributed to the pains of residents of Imo State.
In a statement, Powerful warned that the patience of Imo State residents would not be "infinitely elastic."
A statement by Powerful reads partly: "The attention of the global family and movement of the Indigenous People of Biafra (IPOB) ably led by the great and indefatigable leader Mazi Nnamdi Okwuchukwu Kanu has come to the knowledge of the high level of insecurity and banditry in the region, especially in Imo State.
"The movement is in possession of intel that these individuals, including some others still under investigation, have been behind the insecurity and killings of innocent Imo citizens. Rochas Okorocha, Ifeanyi Ararume and Emeka Ihedioha believe that they will use ordinary Imo citizens to wage their political war with Hope Uzodinma the bloodsucker in IKONSO'S HOUSE not minding the effect on the lives of Imo citizens.
"Rochas Okorocha, Hope Uzodinma, Emeka Ihedioha, and Ifeanyi Ararume, these men decided that innocent citizens of the state will not have peace or sleep with their two eyes closed. They have contributed immensely to the pain and suffering of the people of Imo State. IPOB will ensure that these people become politically irrelevant because they are behind all the political killings and burning of people's properties, and destruction of their means of livelihood.
"IPOB is calling on all the stakeholders in Imo State, from religious leaders both men and women, including the uncompromised traditional rulers in the state to Umuada groups and women organisations to speak up now in other to rescue Imo State from the hands of these criminals claiming to be political leaders."
IPOB said, what Okorocha, Ararume, Ihedioha, and Uzodinma began as little political differences metamorphosed into a full-blown internecine war causing the Imo people to become collateral damage in this their madness.
The group charged Uzodinma, Ararume, Okorocha, and Ihedioha to settle their personal issues and stop constituting violence in the state.
"Hope Uzodinma, Rochas Okorocha, Ifeanyi Ararume, and Emeka Ihedioha must settle whatever personal issues they have amongst themselves and desist from using the innocent people of Imo State to further their evil political interest.
"We remind them that they too have families and blood also flows in their veins. This madness MUST cease forthwith because when Imo people will rise against them, IPOB will not get involved," the group added.