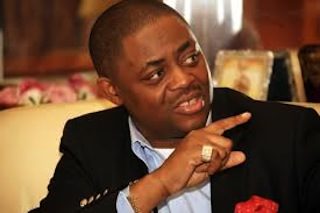 Barely four days to the general election, Femi Fani-Kayode, a chieftain of the All Progressives Congress, APC, has described the Peoples Democratic Party, PDP, as a coven of fraudsters who believe in sharing money.
Fani-Kayode also said PDP was led by a leader scamming and plundering Nigeria.
In a series of tweets, the former Aviation Minister said the former leading party comprises thieves who lack the fear of God.
According to Fani-Kayode: "Share this widely & let the world know.
"The PDP are a coven of shape-shifting reptilians, blood-sucking demons, end-time reprobates, bum-sucking perverts, unrepentant gangsters, self-serving carpet baggers, incorrigible rogues & thieving spirits who have no fear of God.
"They are a congress of violent psychopaths, sociopathic monsters, mendacious malevolent, malicious malevolent, primitive fraudsters, troubled losers & dark & frustrated souls whose motto & battle cry is "SHARE THE MONEY".
"They are the missing link: half ape and half man. They are the Nephilim: the products and offspring of an unholy union and godless copulation between fallen angels and the daughters of men.
"Worse still, they are led by a shady, unreliable, duplicitous, ruthless, treacherous, self-obsessed, vicious, parasitic, desperate, drug-dealing, non-binary & sexually-conflicted boy-lover who has spent his life living off & scamming the Nig state & plundering our resources.
"The most dangerous thing that we can do is to hand over Nigeria to such people."