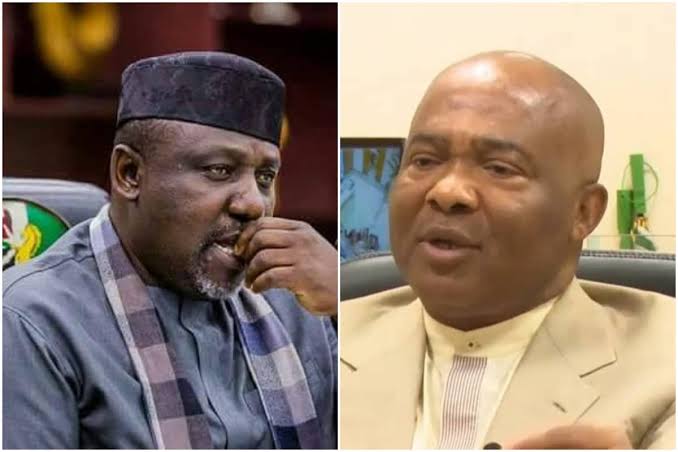 Ahead of the Saturday presidential elections starting, the Indigenous People of Biafra, IPOB, has warned Governor Hope Uzodinma of Imo State and some prominent political leaders against causing insecurity in the state.
Emma Powerful, IPOB's spokesman, warned Uzodinma, ex-Governor Emeka Ihedioha, senator Rochas Okorocha, and Senator Ifeanyi Ararume to stop fueling insecurity in the state.
Powerful said Ihedioha, Okorocha and Ararume should stop giving Uzodinma the power to use Ebubeagu to kill people of Imo State.
A statement by Powerful reads: "The global family and movement of the Indigenous People of Biafra (IPOB) ably led the great and indefatigable liberator Mazi Nnamdi Okwuchukwu KANU call on Hon. Emeka Ihedioha, Rochas Okorocha, and Senator Ifeanyi Ararume to resist the fight between them and the supreme the Court Administrator of Imo State, Hope Uzodinma, because the state belongs to all of us if they destroy it completely, who would they aspire to rule in the future? IPOB has nothing against anybody, but anyone working to murder our people will not be a friend of IPOB.
"The situation in Imo State under the rulership of Hope Uzodinma has not only made it the centre of crime in Biafraland but a wicked place for sons and daughters of Chukwu Okike Abiama to live. How could our people not sleep in their homes with two eyes closed? Instead, our people cry red tears every day because of Uzodinma and his APC system of government who are killing our politicians and traditional rulers when they venture to ask questions about what is going on in Imo State against the citizens.
"We know that Chief Engineer Emmanuel Iwuanyanwu is in a cage under Hope Uzodinma. Other elders cannot talk because the vampire is on the throne.
"Since the formation of Ebubeagu in the two states of Imo and Ebonyi, we have not seen them chasing Fulani terrorists out of our farms and bushes but they are busy kidnapping for ransom, killing, and snatching cars from our people.
"Therefore, we call on the big political actors in Imo State such as Emeka Ihedioha, Ifeanyi Ararume, and Rochas Okorocha to stop fueling the insecurity in Imo State to avoid giving the Vampire, Hopeless Uzodinma more opportunity to keep using Ebebuagu militia to terrorise and kill our people."