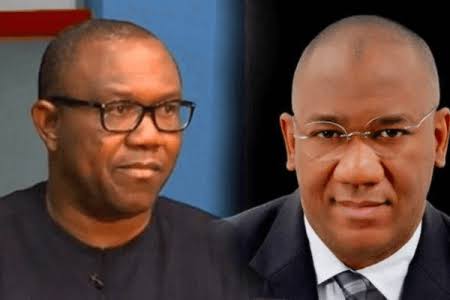 Reno Omokri, an ex-media aide of former president Goodluck Ebele Jonathan, has charged the Federal Government to arrest the Labour Party presidential candidate, Peter Obi and his running mate, Yusuf Datti Baba-Ahmed when next they make treasonous comments.
The Federal Government on Tuesday accused the duo of inviting insurrection with their post-election utterances.
It accused them of threatening the country with comments capable that were inciting and treasonable.
Baba-Ahmed, on a Channels Television programme, urged President Muhammadu Buhari and the Chief Justice of Nigeria (CJN) not to swear in the president-elect, Asiwaju Bola Tinubu.
The Minister of Information and Culture Lai Mohammed said it was wrong for Obi in one breadth to seek redress in court over the outcome of the polls and in another incite people to violence.
Reacting to the allegation against the Obi-Datti, Omokri urged the Federal Government to bring down the full wrath of the law on them when next they utter statements that reek of treason.
He tweeted: "The next time either Peter Obi or Datti Baba Ahmed open their mouths to make treasonous comments, the Federal Government should arrest them. Nothing will happen. What happened when FG arrested Nnamdi Kanu? Did heaven fall? Arrest the wimpy simps if they blab anyhow! #TableShaker."
Omokri wondered why Obi-Datti that came third and expressed confidence in the judiciary was going about anti-democratic threats rather than stage a protest just as the Peoples Democratic Party (PDP) did in Abuja.
He added: "Peter Obi and Datti Baba-Ahmed said they have confidence in the judiciary, yet Datti is making anti-democratic threats? Atiku protested in Abuja. Have Peter and Datti protested? The third place that wants to be declared winners? If they talk treason, they go to prison!"