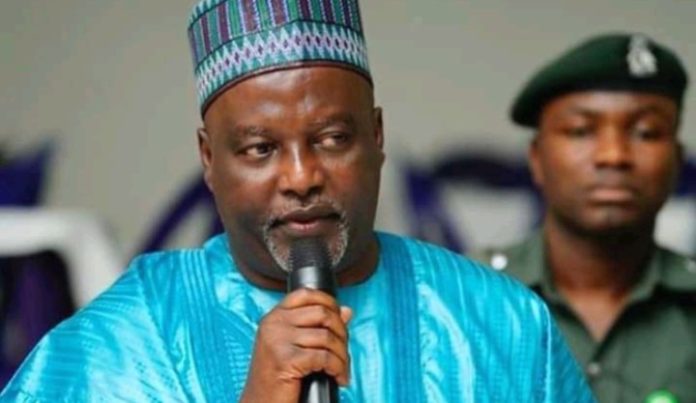 A group house of representatives members and speakership hopefuls, has protested against the nominations by the All Progressives Congress (APC) for leadership positions in the national assembly.
The group comprises Idris Wase, Muktar Betara, Yusuf Gagdi, and Miriam Onuoha, who are aspiring to become the speaker of the house of representatives when the 10th national assembly is inaugurated.
The ruling party chose Godswill Akpabio, a former minister of Niger Delta affairs, and Jibrin Barau, senator representing Kano north, for senate president and deputy respectively.
The APC also chose Tajudeen Abbas, a lawmaker from Kaduna, and Benjamin Kalu, spokesperson of the house and Imo lawmaker, as speaker and deputy respectively.
Speaking with reporters after a meeting with Abdullahi Adamu, APC national chairman, in Abuja on Wednesday, Wase, current deputy speaker, said they felt betrayed about the party's zoning formula because they were not consulted.
"Your excellency, sir, that is the crux of the matter and we feel betrayed by that action. We feel that as if our contributions are not recognized, we feel as if we are not members of this family," he said.
"We feel that we have given our best but now the best is no longer needed.
"Your excellency, my brother Betara is eminently qualified but he should step down because we have a vice present there. Why then are we having a lopsided distribution? Is it because those of us from north central are taken as slaves?
"Four years is not too much. Let's not destroy this party before we go into the next election. We should build this party on the spirit and trust and equitable distribution of resources. It is guaranteed by the constitution of the federal republic of Nigeria.
"We should not forget about the Tambuwalisation of what happened in the house of representatives. We should not forget about the emergence of how Saraki became the senate president. The party as of today we do not have the majority to be that arrogant, and we should not take people for granted."
On his part, Betara, referring to the nominations of Barau and Abbas, both lawmakers from the north-west, said there was never a time two presiding officers hailed from the same place.
"We need to sit down and look at it. We might produce the senate president from a different zone. It happened in 2015. So as a party, we are pleading, we need to sit again with all of us and do more consultations," the Borno lawmaker said.