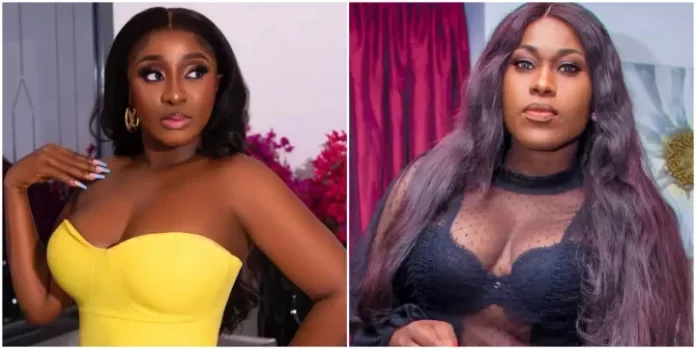 Nollywood thespian Ini Edo has revealed that her longtime friend and colleague, Uche Jombo initially hated her when they first met.
Edo explained that Jumbo thought she was very rude because when they met at a movie location she was late and also did not greet anyone.
Ini Edo added that they were able to move past it easily and just joked about it over drinks.
She stated this during an interview with media personality, Chude Jideonwo.
According to her: "Uche Jombo and I started off as not friends. She thought I was so rude. She thought I was so rude, that I was doing too much. She was like "what is she feeling like?" Like, I kept them on set for days. The first time we ever worked together, apparently she had been hearing my name, "oh that new girl, oh she's all over the place, all the producers are using her now so she's like the IT girl", you know, that is already making her feel like 'what is she feeling like, mschewww'.
"So eventually, I think, I don't know how that wall got broken. I'm a sweetheart anyway, so you can hate me from afar but you can't hate me when you know me, that's just what it is.
"So you know, I think eventually we got talking and I think we shared a drink. She didn't waste time to tell me "you, you no dey greet person abi? You no know say I no be your mate! laughs.
"I think that's how the ice was broken, and she's been an amazing person to me. I think it's mutual respect and real love for each other.
"There's just really nothing but to friendship than just love and respect. Once you have that for each other, it's not like you guys won't have issues or you won't step on each other's toes, but once that mutual respect is there and that real love is there, we can communicate cuz I like to talk, so we can talk through everything," she said.
The Nation