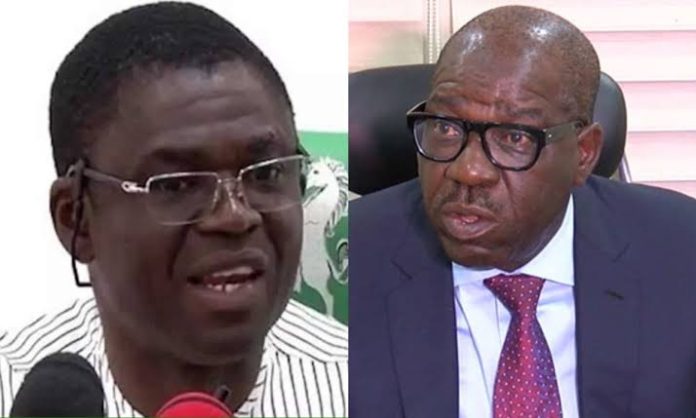 Edo State Governor Godwin Obaseki has agreed to reconcile with his deputy Philip Shaibu, but on the condition that Shaibu drops his ambition to run for the September 2024 state governorship poll.
The Nation gathered that Obaseki wants Shaibu to do so publicly or be excluded from all government activities, including the state Executive Council meetings if he failed to do so.
Shaibu's ambition is at the centre of the feud between them.
The governor is from Edo South Senatorial district and Shaibu is from Edo North.
Obaseki is supporting Asue Ighodalo., a lawyer from Edo Central to ensure fairness, justice and equity.
Ighodalo is the chairman of the Board of Trustees of Alaghodaro, an annual investment drive by the state government.
Shaibu has, however, insisted that he would partake in the governorship election.
Mid–September, the state government moved Shaibu's office to the Government Reservation Area(GRA) in Benin City and turned his Government House Office into the secretariat of the annual Alaghodaro summit.
Last Thursday, Shaibu apologised to his principal over their political differences.
The Nation learnt yesterday that Obaseki held the state's weekly executive council meeting/ retreat in Lagos without Shaibu.
The deputy governor was allegedly sent by Obaseki to Abuja represent, apparently to get him away from the meeting/retreat.
The two-day retreat for newly-appointed Edo commissioners and other top officials of the government was tagged: "Exco Retreat with Mr. Governor."
An Obaseki ally, who spoke on condition of anonymity, said the retreat was a yearly ritual for strategic events to brainstorm on the programmes of the government and set an agenda for the coming year.
It was gathered that during the retreat, Obaseki told members of his kitchen cabinet that should Shaibu dare to participate in the Peoples Democratic Party governorship primaries, his security vote and participation in government activities halted.
A source said: "Obaseki surreptitiously sent Shaibu to represent him in two Abuja events, while he (Edo governor) went to a Lagos resort, along with his commissioners and heads of Edo Ministries, Departments and Agencies (MDAs), to hold the state's weekly exco meeting, without any prior notice to Shaibu on either the change of exco meeting's day or venue."
"Obaseki's decision to send his deputy on a wild-goose chase to Abuja is connected to his (Edo governor's) decision to ensure that his deputy could not justifiably argue that he was deliberately schemed out of the Lagos exco meeting when he was also on state assignments.
"Shaibu was deliberately not informed of any decision to hold the exco meeting on Monday, instead of the usual Wednesday or that it would be taken to Lagos.
"Notice of the meeting was kept top secret, and deliberately shielded from the deputy, to ensure that even if he managed to return to Benin City from his Abuja assignments before the end of the meeting, he would not be able to attend.
"Edo governor does not want his deputy to be with him at the Lagos exco meeting and retreat until he is able to meet all conditions set for reconciliation, one of which is that he must publicly renounce his governorship ambition, for Obaseki to consolidate on his choice of Asue Ighodalo as his successor."
Edo Commissioner for Communication and Orientation, Chris Nehikhare; Obaseki's Special Adviser on Media Projects, Crusoe Osagie; the newly-appointed Chief Press Secretary (CPS) to Edo governor, Andrew Okungbowa; and Shaibu's Chief Press Secretary Ebomhiana Musa, declined to react to the "sensitive" matters.