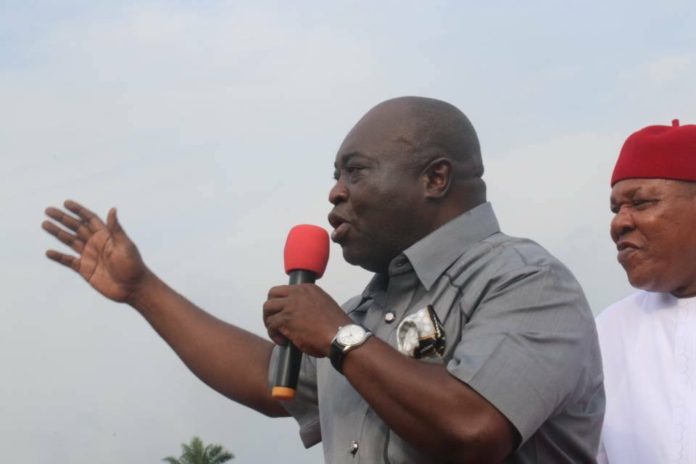 Abia State Governor Dr Okezie Ikpeazu has said that the Peoples Democratic Party(PDP) Is big enough to accommodate anybody.
Speaking at the Ntigha mini stadium in Isialangwa North Local Government Area, as the leader of APGA in Abia State, Ochiagha Regan Ufomba and executive of APGA as well thousands of APGA members in Abia State defected to the ruling the Peoples Democratic Party, Ikpeazu described Chief Regan Ufomba as a good Abian, who is always interested in what to be done for a better future of Abia State.
The Governor said PDP is big enough to contain everybody, and told the party leaders to accept the new party members with an open heart.
He invited all the new members to attend PDP Ward Meetings holding by first week of November, where they would be given party cards.
In his words the PDP State Chairman, Sir Johnson Onuigbo said that the return  of Chief Reagan to the party is a big thing to the and Abia State. He told the returnees that their rights and privileges would be granted in PDP.
Onuigbo, while handing-over a PDP membership card to Chief Regan Ufomba, assured that they would be carried along as there would be no discrimination against them.
Speaking also, Ochiagha Regan Ufomba said he was happy to be back to PDP, informing that 17 Local Government Area Chairmen of the party, 184 ward Chairmen of the party, over 250 affiliate groups and his supporters are have dumped APGA.
Regan Ufomba who stressed that he is rejoining the Peoples Democratic Party to contribute to the development of Abia State, pledged his loyalty to the PDP.