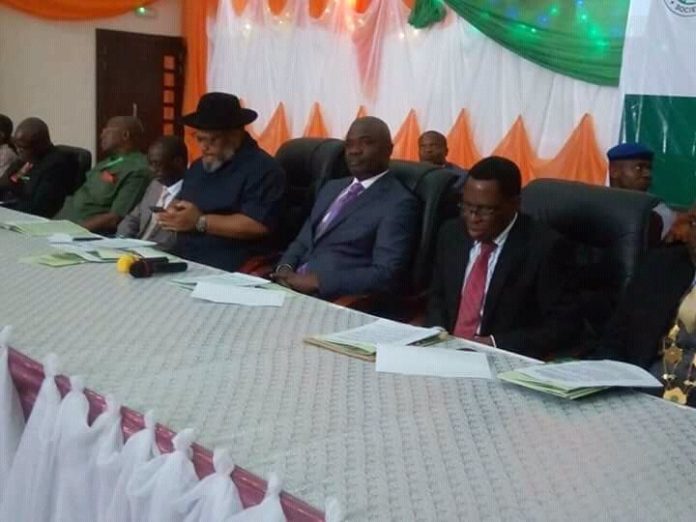 The Governor of Abia State Dr. Okezie Ikpeazu has assured that his administration would continue to champion and deploy some of the green initiatives in different government activities as to ensure that project and programmes are co- beneficiaries of collective environmental and economic investment.
Speaking at the 27th National Conference and Annual General Meeting of The Nigerian Environmental Society held at Dr. Obi Wali International Conference Centre Port Harcourt ,Rivers State, Governor Ikpeazu described green growth as an opportunity to modernize our economy and develop new sources for sustainable growth and job as well as opportunity to strengthen our energy security by reducing our dependence on crude oil exploitation.
The Governor represented by his deputy , Sir Ude Oko Chukwu disclosed that the state government was currently engaged in infrastructure development with emphasis on road construction with tree planting along the lanes, green landscaping, establishment of new free nursery sites to sustain free planting initiatives,formation of environmental clubs to promote environmental education in primary and secondary schools while the new ICT policy of the state was to ensure reduction of paper based government communication.
He maintained that a sustainable green economy involves interplays between the environment and the economy with growth and impact of the social space stressing that paradigm shift needed to achieve a green economy would need a win win economic environmental model.
Dr. Ikpeazu stated that to achieve sustainable green initiatives for economic growth, government in developing countries must ensure sustainable public procurement effort that stipulate demands for green product and services, reduction of waste that causes environmental degradation, ensure legislation for green investment, shift our priorities in science , research and education to areas that support transition to a green economy as well create enabling condition for psychological and behaviorial change that depicts initiative as socio – economic goal.
He commended the society for organizing the conference with the theme Deployment of green initiatives for economic diversification in Africa as apt and called for adoptable green initiatives for a green economy that works for developing economy especially those that facilitate the diversifying and growth of economy.