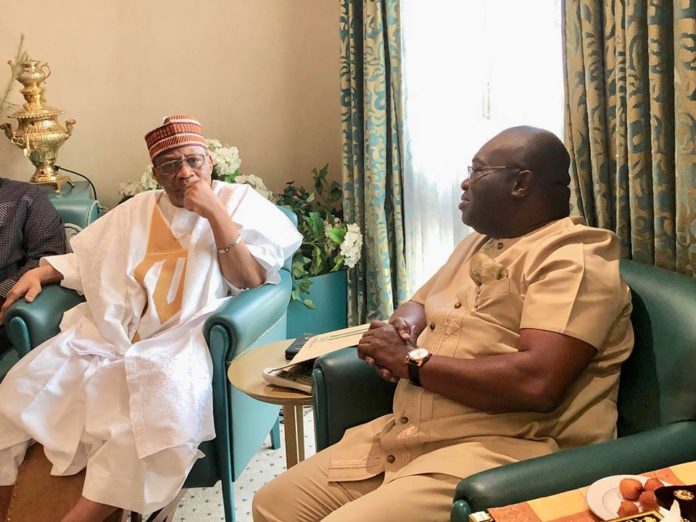 Former Military President, General Ibrahim Babangida, has commended the Abia State Governor, Dr Okezie Ikpeazu, for his efforts in repositioning Abia State for greatness.
According to a release by the Chief Press Secretary to the Governor, Enyinnaya Appolos, the former Head of State, who created Abia in 1991, spoke when Governor Ikpeazu visited him at his Hiltop Home in Minna Niger State.
Expressing his delight over many positive developments in Abia State, he said: "Your Excellency, thank you for coming. Abia State is dear to my heart. I know a lot about Abia and our people in Abia. Abia is very important to Nigeria and Africa. I hear about your efforts to reposition the state. God will bless you for the good work you are doing for us in Abia. Please do not stop the good work you are doing already, and always remember that the opportunity to serve has expiry date. I am indeed happy when I read of your good works in Abia." He said.
In his response, Governor Ikpeazu thanked he Elder statesman for giving his best to Nigeria and promised that his effort and that of other leaders of Nigeria will be sustained.
"I must thank you sir for your efforts in keeping this nation as one. You gave your best and we will not allow your efforts for a better Nigeria to be in vain.
"I must also thank you Sir for your support to us in Abia, you encouraged us a lot and I promise that we will keep doing our best in Abia. It has not been easy, but we are addressing the issue of infrastructure in the state, particularly in Aba."
Governor Ikpeazu was accompanied to the visit by some chieftains of the Peoples Democratic Party (PDP) in Abia including, Chief Allen Nwachukwu, Ochiagha Reagan Ufomba and Ambassador Empire Kanu.