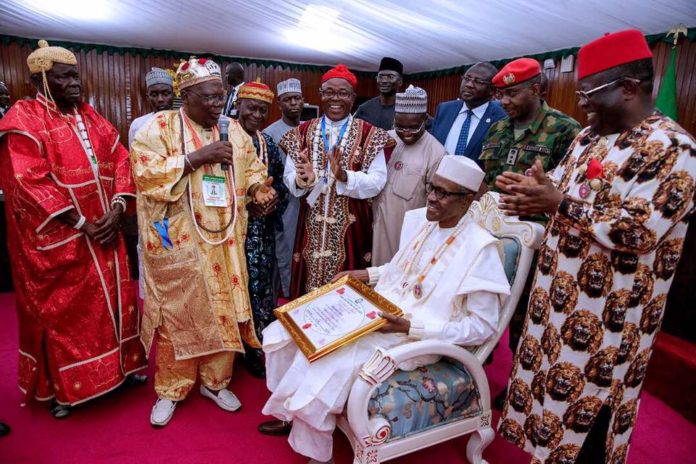 President Muhammadu Buhari on Tuesday urged the people of the South East not to buy into want he described as the senseless propaganda of secession.
He said Nigeria and Igbo were inseparable.
Buhari said these in his remarks at the Abakaliki Township Stadium during his state visit to Ebonyi State.
According to a copy of his speech made available to our correspondent, the President said his presence in the state was a demonstration of his strong belief in the unity of the country.
The President said, "My presence here today is a demonstration of our strong belief in the unity of Nigeria. As the most populous country in Africa, with over 300 ethnic groups, our diversity is almost unique among nations.
"The people of the South East are known for their ingenuity, industrial and commercial talent. There is no part of Nigeria where you will not find Igbo entrepreneurs, both men and women, contributing to the development of their adopted communities.
"So I am asking you all not to buy into the senseless propaganda on secession. Igbo is Nigeria and Nigeria is Igbo. Both are inseparable.
"We must therefore continue to commit ourselves to the development of Nigeria. A Nigeria where we sustain our national unity without compromising on our cultural identities. A Nigeria where the aspirations of its people is guaranteed without prejudice to tribe or religion. A Nigeria, where we can sleep at night knowing that tomorrow will be better than today."
Buhari said described the task of nation-building as a continuous one.
He recalled that the nation's founding fathers from all parts of the country worked together to actualise the creation of one Nigeria.
After independence, according to the President, the same founding fathers worked together to maintain one Nigeria.
"Yes, they had differences and varied opinions at times. After all, they were only human. And yes, they had moments of weaknesses and doubt. But again, no one is perfect. However, one thing they all protected until the end of their lives was having one Nigeria for all Nigerians.
"Today, Nigeria is 57 years old. Nigeria has gone through many pains. But has also achieved significant successes. Its citizens are leaders in all aspect of human development. But we rarely celebrate these successes more.
"Some misguided Nigerians would rather channel their energy to propagating negative stories and senseless rumours.
"Over 60% of Nigeria's population is under 25 years old.  They have little knowledge of Nigeria's journey. They were not born during the dark days of civil war and the nation rebuilding that happened afterwards. "
PUNCH