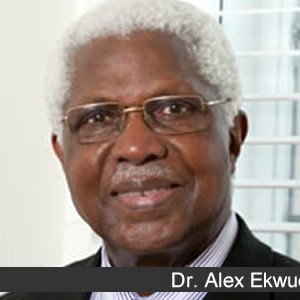 Elder statesman and Nigeria's former Vice President, Dr Alex Ekwueme, is dead.
According to his family, he died on Sunday in a London Hospital where he was undergoing treatment.
While many are still mourning the death of the elder statesman, condolences have continued to pour in from governors as well as past presidents of Nigeria
Here are 7 things to remember about him.
• Dr. Alex Ifeanyichukwu Ekwueme was born on October 21, 1932 and died on November 19, 2017.
• He is an alumnus of the famous King's College, Lagos.
• After being awarded with the Fulbright Scholarship in the United States, he attended the University of Washington where he earned a bachelor's degree in Architecture.
• He later earned degrees in sociology, history, philosophy and law from the University of London and later proceeded to obtain a Ph.D. in Architecture from the University of Strathclyde
• He is the Ide of the Oko kingdom in Anambra State, where his younger brother Prof Lazarus Ekwueme, reigns as the traditional ruler.
• He was also honoured by the council of Traditional Rulers in the old Aguata as the Ide of Aguata Local Government Area of Anambra State comprising 44 towns.
• He was a member of the Economic Community of West African States (ECOWAS) Council of Elders.
• He was the first elected Vice-President of Nigeria, in office from 1979 to 1983.
CHANNELS