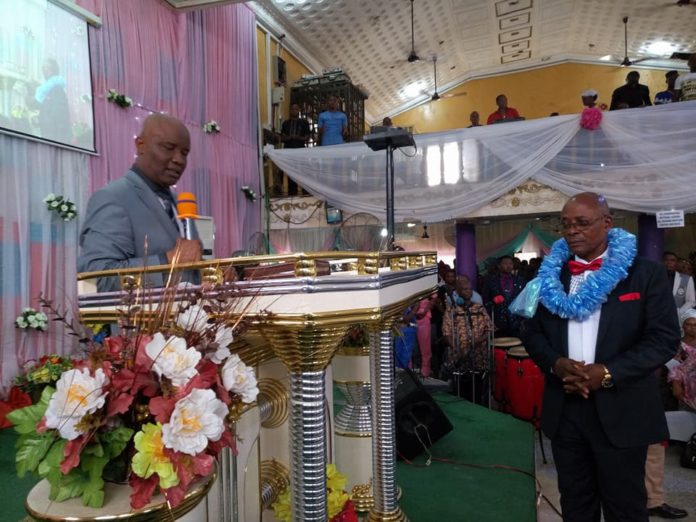 Inline with the Provisions of the Constitution and Bye-Laws of Assemblies Of God Nigeria,the Leadership of the General Council of Assemblies Of God Nigeria today Friday 24th November 2017 Retired Rev Dr Theophilus Anyimson,the Pioneer Umuahia Central Jerusalem District Superintendent who reached the Mandatory Retirement age of 70Years Today.
Rev Dr Theophilus Anyimson born on the 24th of November 1947 at Otoro Nchara Oloko In Ikwuano LGA of Abia State embraced Christ at a very tender age of 10 through the Conversion of his parents to Assemblies Of God Nigeria in 1957,he was called into the Ministry in 1970 Immediately after the Nigerian Civiil War.
In his Citation during the Occasion,Rev Dr Henry Emelike,the Assistant District Superintendent of Umuahia Central Jerusalem District described Dr Anyimson as a man who has a healthy Inter-Personnal Relationship with People.
Speaking from the Books of Collosians 4:17,Second Timothy 4:5-7 on the Topic"Finishing Grace" the General Superintendent of Assemblies Of God Nigeria Rev Chidi Okoroafor(Phd) reminded the Congregation that a Pastor has three Stages in his Ministry namely: Years Begiing,Years of Popularity and Fading Away Years.He Charged the Congregation to imbibe the Spirit of maintaining a Healthy Relationship with People as according to him'Nobody Knows Tomorrow' and Leadership is a lonely Road and a Thankless Job
The General Superintendent Described Dr Anyimson as a Teacher who taught him at the Bible School and that it was the Grace of God that preserved him to Finish Strong and Healthy.
Also Speaking at the Occasion Dr Abel Amadi Executive Committee Member for South East Zone 2,Rev P.K Ememaba Executive Committee Member For South East Zone 1 and Rev Emmanuel Nshii Executive Committee Member For South East Zone 3 all Described Dr Anyimson as a man who played a role of a Teacher in their various Pastorial Ministries.
All the Unit Heads in Abia State,some Presbyters among other Unit Heads attended the Retirement Ceremony of Dr Theophilus Anyimson
The Ceremony featured the cutting of his 70th Birthday Cake