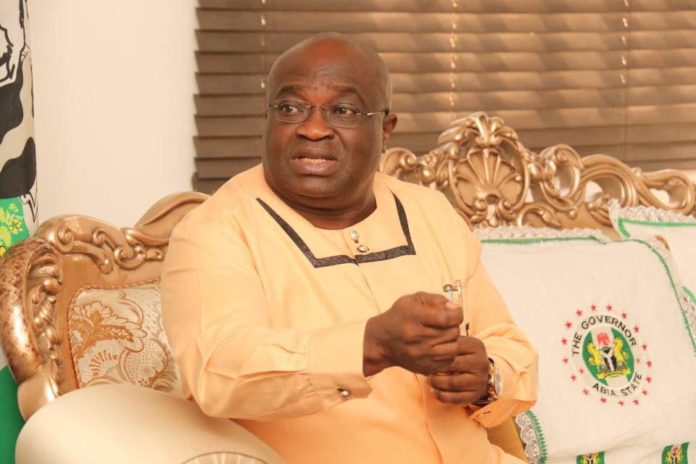 The Ohanaeze Youth Council Worldwide (OYC), said it has endorsed Governors Okezie Ikpeazu, Ifeanyi Ugwuanyi, Dave Umahi, of Abia, Enugu and Ebonyi states, respectively, for second term.
This was contained in a statement issued by OYC President, Okechukwu Isiguzoro.
The endorsement is against the backdrop of a call by another pan-Igbo youth group, the World Igbo Youth Council (WIYC), whose spokesperson, Alex Okemiri, asked governor Ikpeazu to forget the temptation of seeking a second term in 2019.
Okemiri said Ikpeazu has nothing to show to Abians to deserve a second term.
He also advised Ikpeazu to resign as Abia governor, to avoid being honoured as "the face of bad governance and worst governor in Nigeria," alleging non-performance.
Regardless, Isiguzoro described WIYC's stand as the height of recklessness, and warned that the apex-youth group would no longer condone "the desperate and ceaseless attempt by some persons to tarnish the reputation of South East Governors."
He noted that "they have been following the trend of activities among all the governors serving their first terms in the country and have discovered that the three governors in the South East, who are currently in their first term, have performed beyond average.
"We, therefore, note with concern the media attack on the person of governor Ikpeazu, by WIYC, to the effect that he does not deserve second term.
"We are at a loss on the yardstick used by the said group in arriving at their decision.
"We wonder whether they are from the skies or they deliberately refuse to see the development realities on ground in Abia state.
"The OYC Worldwide, therefore, warns that the era of political attack dogs, hiding under some groups, to discredit our serving leaders, will no longer be condoned.
"Rather than distract these governors, any person interested in the position should wait for the right time to take a shot at the position if, indeed, such a person gets the people's mandate.
"May we restate, for emphasis, that the Ohanaeze Youth Council is pleased with governor Ikpeazu of Abia, Ugwuanyi of Enugu and Umahi of Ebonyi State. They have all done well. This is not about party politics but about the realities on ground," Isiguzoro said.