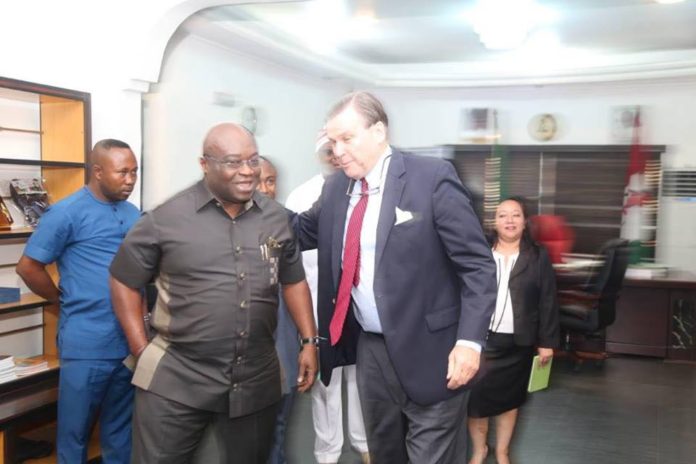 According to Hon John Okiyi Kalu Commissioner For Information in Abia State,this is why Ikpeazu is aggressively developing Aba
1. To spread prosperity in Abia State
Neither the Governor nor any of his close family members have shoe making factory, tailoring outfit or metal fabrication business. If you see any of the above belonging to the Governor or his close family members please feel free to confiscate it by any legal means possible.
2. To create jobs
Shoe planet started as one man business but today there are at least 9 persons working directly for him in the business of shoe making and shoe selling. More than 40 others are indirectly engaged by Shoe Planet.
If all the 250,000 MSMEs at Aba grow their businesses and employ 4 persons each then we will have 1m new non public sector jobs at Aba.
3. To improve security of lives and properties
An idle mind is the devil's workshop. If our people are employed and actively working hard to produce 50,000 pairs of booth for the army, 100,000 uniforms for NYSC, 10,000 belts for the navy, 35,000 pairs of shoe for victims of Boko Haram, costumes for Calabar carnival, metal storage tanks for oil companies etc they won't engage in kidnapping, armed robbery etc.
Our security expenses will also go down and the lives of our young people will be preserved.
4. To reward the hard work and creativity of our craftsmen
For years the work and sweat of our craftsmen were wrongly credited to "Gucci" Italy, Taiwan, China and even Senegalese manufacturers. The Governor wants our creative young people to be given due credit for their hard work.
Hence we now label our brands "Proudly Aba Made" or "Made In Aba".
Our craftsmen can compete in innovativeness with anyone from anywhere in the world. Come and try, if you can.
5. To aid the industrialization of Abia State and deliver higher IGR for development of infrastructure, education and Agriculture.
To support our local craftsmen, manufacturers and traders, Governor Ikpeazu is devoting scarce resources to reconstructing key roads leading to the industrial clusters at Aba:
A. Faulks road leads to Ariaria International Market where shoes are made at Bakassi line. Six other proximal roads are being reconstructed by the Governor @ Aba, Abia