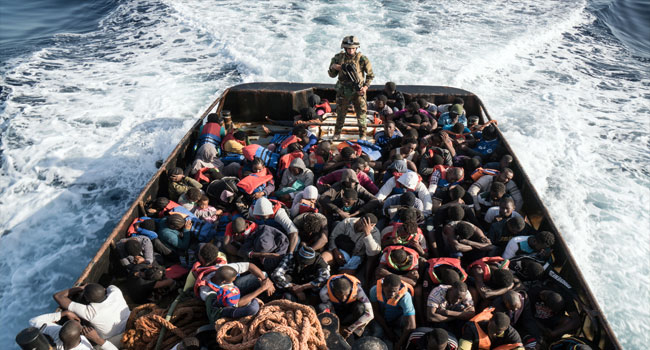 The National Assembly has condemned the modern day slavery in Libya and called the executive to find a solution to the issue and the menace of migration.
Both the Senate and the House of Representatives considered the issue based on separate motions on Wednesday and pushed for talks between the Nigerian government and its Libyan counterpart.
In its resolution, the Senate urged the Ministry of Foreign Affairs to invite the Libyan Ambassador to Nigeria and discuss how to end the slave trade in the country, which has drawn widespread condemnation.
The outrage over the slave trade comes after a video emerged showing migrants that have been enslaved and brutalised being sold off.
The lawmakers called on President Muhammadu Buhari to use the opportunity of the ongoing European Union and African Union Summit in Abidjan, Cote d'Ivoire to table the matter before the Libyan delegation.
Senator Baba Kaka Garbai (Borno-Central), who brought up the issue with a motion entitled, 'Urgent Need to Protect Nigerian Citizens from the Libya Slavery Auction', decried the "barbaric" sale of migrants, many of who are Nigerians.
Senate President Bukola Saraki described the development as a slap in the face and called for more steps to be taken to protect citizens.
"As a country, truly, it is a slap in the face of all of us if Nigerians can be treated in this manner. Like somebody said, Ivory Coast that is not as big as us is taking action to see how they can bring their own citizens back. We need to be doing similar things," he said.
When a similar motion was moved at the House of Representatives, the reps urged the executive to liaise with the government of Libya with a view to finding a lasting solution to the reported menace of illegal migration and slavery in the North African country.
A joint committee of the house is also to interface with the Ministry of Foreign Affairs to identify factors that encourage people to embark on the dangerous journey, proffer solution to discourage intending migrants as well as recommend how Nigerians caught in the web, can be returned home.
The condemnation of the slave trade by the National Assembly comes the same day President Muhammadu Buhari promised to ensure that Nigerians stranded in Libya are repatriated and illegal migration is checked.
CHANNELS