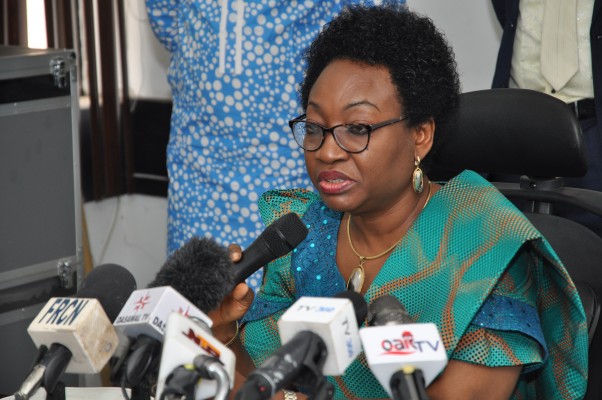 The Head of the Civil Service of the Federation, Winifred Ekanem Oyo–Ita, has maintained her position that she had no hand in the reinstatement of the embattled former Minister of chairman of the Presidential Pension Task Force Team, Abdulrasheed Maina.
She made this known on Thursday during a resumed public hearing on the case by the House of Representatives adhoc committee investigating Maina's disappearance, return and reinstatement.
According to Oyo-Ita, the Attorney General of the Federation, Mr Abubakar Malami never wrote directly to her office as he only communicated with the office of the Federal Civil Service Commission concerning the reinstatement.
According to her, an officer who is being reinstated or employed afresh into any ministry, ought to report to the office of the Head of Service before he is given a posting to whichever MDA but that was not the case with Mr Maina.
"There was no posting instruction for Mr Maina to report to the Ministry of Interior from the office of the Head of Service," she said.
Meanwhile, Mr Malami to whom most fingers are pointing, as being at the centre of all the controversy, has also insisted that he had no hand in the reinstatement process.
"The purported letter dated February 21, 2017 made available by the committee couldn't have genuinely emanated from the Attorney General," he said.
While he was being quizzed over the fact that he never questioned the letters which were sent to him indicating his receipt and signing of previous letters, he defended that he took his time to respond in order to take the most appropriate decision.
According to him, it did not appear as a matter of urgency at the time and he had indicated "Keep In View" on the letters in order to allow him review them properly and thereafter take necessary action.
Also present to explain their roles in the case were the Permanent Secretary of the Ministry of Interior Abubakar Magaji, and the Comptroller-General of the Nigeria Immigration Service, Mr Mohammed Babandede.
Others include the Minister of Finance Mrs Kemi Adeosun, the acting Chairman of the EFCC Mr Ibrahim Magu, the Director-General of the DSS Mr Lawal Daura, and the acting chairman Federal Civil Service Commission Mr Oluremi Akande.
CHANNELS