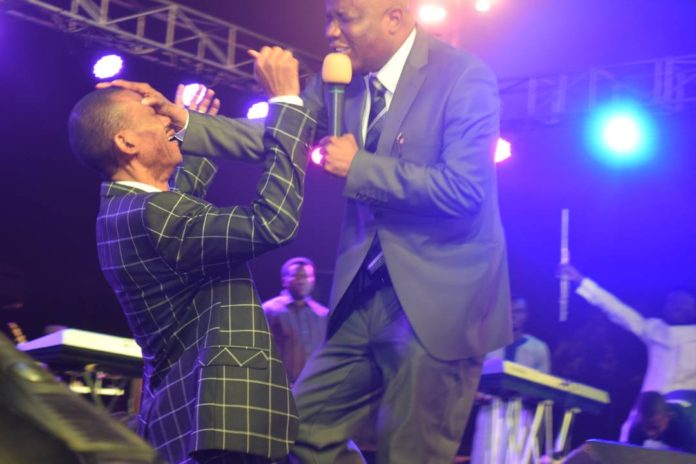 Church Leaders,Politicians has been urged to provide opportunity for a rising talent,stressing that all that a Gifted man or woman needs is an opportunity to perform.
This Admonition was handed down by the President of of the Central African Assemblies Of God Alliance(CAAGA) and the General Superintendent of Assemblies Of God Nigeria Rev Chidi Okoroafor(Phd) at the 2017 Annual Programme of Assemblies Of God Church Ikenegbu Owerii Tagged"SEND DOWN THY GLORY 2017″ which held at Dan Anyiam Stadium Owerri.
Dr Chidi Okoroafor who Spoke from the Book of 2nd Samuel 6:10-11 about a certain man in the Bible who had three Ugly Names: Obed-edom of Gath whom God bless and all his Household,reminded Christian that nobody is too Terrible For God.
"Let me Dissect the names,Obed Means Slave; while Edom means Descendant from Edomite,Children of Esau,Brother of Jacob and Enemy of Isreal Enemy of God. Gath mean hometown of Goliat" He Said
Speaking further the General Superintendent of Assemblies Of God Nigeria appreciated Rev Dr Abel Amadi,the Owerri East District Superintendent and the Executive Committee Member Representing South East Zone at the General Council,for given Rev Bethel Nwanebu,the Senior Pastor of Assemblies Of God Church Ikenegbu Owerri an Opportunity to Perform
"I want to appreciate the District Superintendent of Owerri East Dr Amadi,for Providing Platform for Rev Be,you know i Preached a Sermon Titled Dont Destroy a Talent"
"As i see what the Lord is doing today through Rev B,i will first Appreciate Dr Amadi,he didn't squeeze him(Rev B),he provided platform for him to perform"
"All that a gifted man or woman needs is an opportunity to perform
"I want to challenge every Leader here,Ecclesiastical and Political When you see a rising talent, give him an opportunity to perform"

"The shining of a particular star will not cause other stars to close up,Rev B This is an introductory scratch to other great things that God wants to do in your life".the General Said
The 2017 SEND DOWN THY GLORY had Seasoned Gospel Singers,high Profile Individuals including Her Excellency Mrs Nkechinyere Okorocha wife of the Imo State Governor Rochas Okorocha